Hangzhou among top 10 cities for talent in new infrastructure construction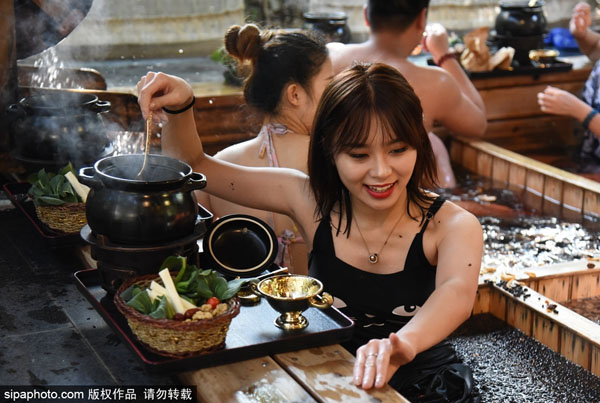 People enjoy hot springs in the First World Hotel in Hangzhou on Dec 8, 2019. [Photo/Sipa]
The construction of new infrastructure such as 5G, artificial intelligence, industrial internet and internet of things saw an increase in online jobs by 35.86 percent year-on-year in the first four months in China, the Time Weekly reported on June 2 as it quoted the data from a recent report by the big data research institute of Liepin.com, an Chinese online recruitment platform.
Statistics from Zhipin.com, another online recruitment platform, also showed jobs in the spring season in new infrastructure construction for graduates rose 1 to 5 percentage points year-on-year.
Based on big data, Zhaopin.com, a major online recruitment platform, released a report on talent development in new infrastructure construction recently, ranking the top 10 cities with the highest job-offering ratios for talent in new infrastructure construction.
Hangzhou, capital of East China's Zhejiang province, ranks No 10 with its job-offering ratio for talent in new infrastructure construction scoring 2.79 percent.
April 27, 2021

April 23, 2021

April 19, 2021
March 11, 2021