China's first COVID-19 mRNA vaccine starts phase I clinical trial
By Wu Lei | CGTN | Updated: 2020-07-01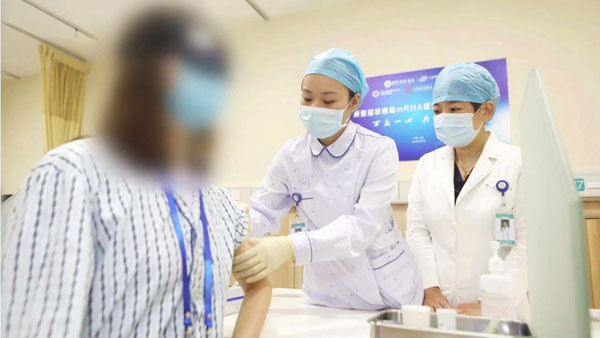 A volunteer receiving the COVID-19 mRNA vaccine. [Photo/CGTN]
The first clinical trial of China's first COVID-19 mRNA vaccine is underway in east China's Hangzhou City. On the afternoon of June 29, volunteers received their first dose at Shulan Hospital.
The project started enrolling volunteers on June 23, and plans to recruit 168 healthy individuals, half of them aged 18 to 59 years old and the other half aged at least 60 years, to evaluate the safety and tolerance of the new coronavirus (SARS-CoV-2) mRNA vaccine.
The hospital posted a recruiting announcement on its account on WeChat, a social media platform, on June 24.
The inauguration of phase I clinical trial of China's first COVID-19 mRNA vaccine. [Photo/CGTN]
Volunteers will receive two doses of the vaccine, and don't need to be hospitalized during the trial period. Researchers can leave the research center after confirming the absence of any abnormality.
Shulan Hospital staff they are still recruiting more volunteers.
ARCoV, a novel coronavirus Messenger RNA (mRNA) vaccine candidate jointly developed by the People's Liberation Army (PLA) Academy of Military Sciences, Suzhou Abogen Biosciences and Walvax Biotechnology Co., Ltd., was officially approved by the National Medical Products Administration for clinical trial on June 19.
This is the first COVID-19 mRNA vaccine to have been approved for clinical trials in China.