Liangzhu-themed sculpture unveiled
| ehangzhou.gov.cn | Updated: 2020-07-07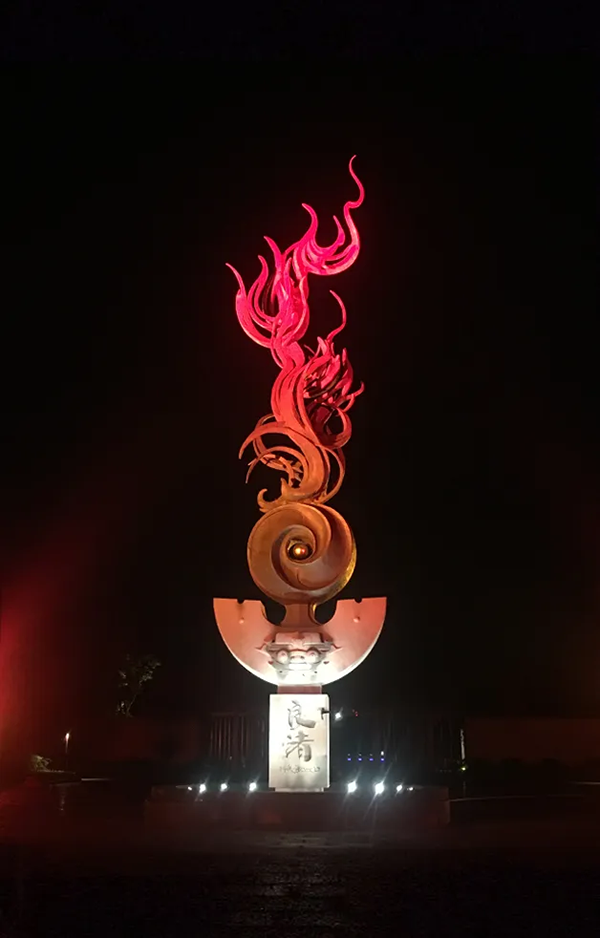 Liangyue Liuhui, a sculpture created by Master Han Meilin for Liangzhu Day [Photo/chinadaily.com.cn]
A sculpture created by Master Han Meilin for Liangzhu Day on July 6, which marks the day that the Archaeological Ruins of Liangzhu City were inscribed onto the UNESCO World Heritage list, was recently unveiled.
Master Han visited the archaeological site and researched numerous historical documents, brainstormed with groups of experts, and trued multiple times in order to complete the sculpture.
The sculpture, entitled Liangyue Liuhui, is 20 meters high and is made of bronze and stone. It was designed with a pedestal, a jade-shaped body, and a shape resembling fire.
The pedestal was inspired by the yucong, a jade ritual vessel with holes and rectangular sides used in ancient China. It serves as a foundation for the artwork and resembles Liangzhu City with its developed hydraulic system.
Its body, which is made up of a mix of ancient jade wares, represents the idea that man is an integral part of nature. The jade disc in the middle also represents an ancient theory that the sky is round and the ground is square.
The upper part of the sculpture, which is made up of sparkling flames, represents the continued prosperity of Chinese civilization.