Tour routes of Hangzhou's world heritage sites recommended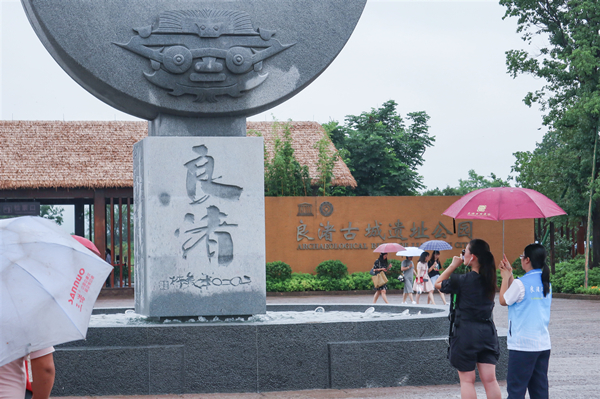 Week-long celebrations for Liangzhu Day, or the Day for the Archaeological Ruins of Liangzhu City, are held in Hangzhou on July 6. [Photo/IC]
Hangzhou's tourism authorities officially recommended 10 tour routes involving the city's three attractions included on the UNESCO World Heritage list on July 6, the same day the Archaeological Ruins of Liangzhu City was placed on the list last year.
The three world-class attractions are West Lake, the Grand Canal, and the Archaeological Ruins of Liangzhu City. They were inscribed on the World Heritage list by the United Nations Educational, Scientific, and Cultural Organization (UNESCO) in 2011, 2014, and 2019, respectively.
Tourists are advised to take a one-day trip to any of the attractions, a two-day trip to two of them, or a three-day trip to all of them.
The three-day trip features the following itinerary: visit Broken Bridge, Bai Causeway, Moon over the Peaceful Lake in Autumn, Three Ponds Mirroring the Moon, Leifeng Pagoda, and other must-see spots in the West Lake scenic area on the first day; stroll along the Hangzhou section of the Grand Canal on the second day, passing through Wulinmen Wharf, Xiangji Temple, Gongchen Bridge, and the Grand Jing-hang Canal Museum; tour the Archaeological Ruins of Liangzhu City, Pingyao Ancient Street, and Liangzhu Museum on the third day.
The Archaeological Ruins of Liangzhu City, a cultural park built upon the archaeological site that has been partially open to the public since July 8 last year, has so far received nearly 500,000 visitors. Pingyao Ancient Street, where the park is located, received more than 50,000 tourists during the five-day May Day holiday, tripling the number during the corresponding period last year.
October 12, 2020

September 16, 2020
September 27, 2020