Cinemas in Hangzhou reopen after six months of closure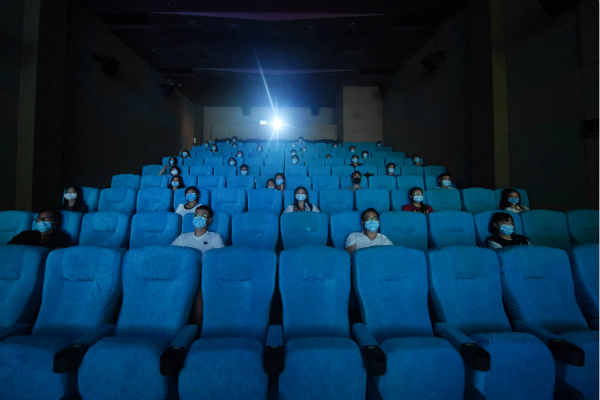 Viewers keep a safe distance from one another as they attend a screening at a cinema in Hangzhou, East China's Zhejiang province on July 20, 2020. [Photo/IC]
Cinemas in Hangzhou reopened at 0:00 on July 20 after the China Film Administration lifted restrictions that were introduced in late January to curb the spread of COVID-19.
According to the authorities, 53 cinemas in Hangzhou reopened on the same day, accounting for more than a quarter of the city's total.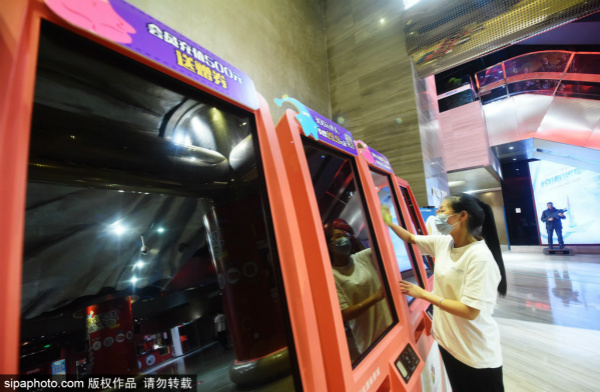 A staff member disinfects ticket vending machines at a cinema in Hangzhou, East China's Zhejiang province, on July 19, 2020. [Photo/Sipa]
Here is a list of some of recommended cinemas and their addresses.
Shangcheng District
Madison Cinema
332 Wangjiang East Road, Shangcheng District
Xiacheng District
Zhejiang Oscar Cinema
38 Longyou Road, Xiacheng District
Zhejiang Qingchun Cinema
Dongqing Building, 60 Qingchun Road, Xiacheng District
Zhejiang Xinyuan International Cinema
8 West Lake Cultural Square, 47 Huancheng North Road, Xiacheng District
Gongshu District
Horgos Bona cinema
1 Yinxiu Road, Gongshu District
Jinxiang Cinema
518 Dengyun Road, Gongshu District
Shenhua International Cinema
969 Moganshan Road, Gongshu District
Jianggan District
Broadway Cinema
701 Fuchun Road, Jianggan District
Dexin Cinema
1 Jiuhua Road, Jianggan District
Raffles Cinema
228 Xinye Road, Jianggan District
Xihu District
Sanjie Cinema
500 Wensan Road, Xihu District
Cuiyuan Cinema
298 Wenyi Road, Xihu District
Binjiang District
Broadway Meilong Cinema
3867 Binsheng Road, Binjiang District
Carnival International Cinema
336 Jiangling Road, Binjiang District
Xiaoshan District
Henglong Cinema
Henglong Square, 688 Shanyin Road, Xiaoshan District
Dongying Era Cinema
3398 Jianshe 4th Road, Xiaoshan District
Yuhang District
SFC Shangying Cinema
Yuzhicheng Life Square, 501 Yingbin Road, Yuhang District
Boya Cinema
Wanbao City, 106 Heyu Road, Yuhang District
Tonglu County
Yingchun International Cinema
69 Yingchun South Road, Tonglu County
Tonglu Era Golden Ball Cinema
Lishi Department Store, 666 Yingchun South Road, Tonglu County
Qiantang New District
SFC Shangying Cinema
Jinsha Tianjie Commercial Center, 560 Jinsha Avenue, Qiantang New District
Heda Era Cinema
27 10th Avenue, Qianjiang New District
April 27, 2021

April 23, 2021

April 19, 2021
March 11, 2021