Hangzhou company partners with Electricite De France
| ehangzhou.gov.cn | Updated: 2020-07-31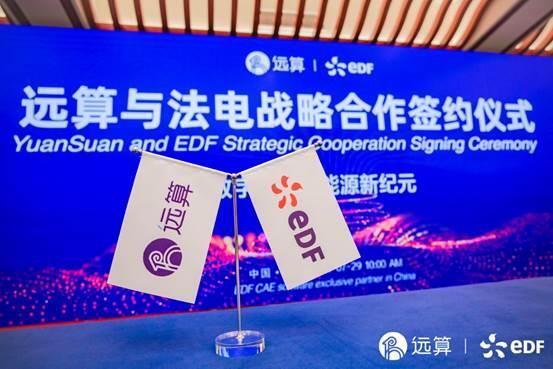 Zhejiang Yuansuan Cloud Computing Company and Electricite De France (EDF) sign a strategic cooperation agreement at the Qiandaohu Intelligence Valley in Hangzhou on July 29. [Photo/hangzhou.zjol.com.cn]
Zhejiang Yuansuan Cloud Computing Company signed a deal with French utility company Electricite De France (EDF) at the Qiandaohu Intelligence Valley in Hangzhou, capital of East China's Zhejiang province, on July 29 to co-develop a replacement for Computer Aided Engineering (CAE) Stimulation Analysis Software in China.
CAE Stimulation Software is regarded as a key technology in improving the competitiveness of China's equipment manufacturing industry; however, the global software market has long been dominated by foreign firms.
China risks losing the software market and falling behind in industrial development if it continues to depend on foreign industrial software.
In light of these challenges, Zhejiang Yuansuan Cloud Computing Co worked out a plan to develop a Chinese replacement for CAE Stimulation Software.
In 2017, the company was founded at the Qiandaohu Intelligence Valley and has dedicated itself to the development industrial software. EDF, as the world's largest energy operator, is a world leader in technological development and industrial engineering.
"We are confident that more Chinese energy and manufacturing companies will be able to enjoy the convenience brought about by advanced digital solutions," said a representative at Zhejiang Yuansuan Cloud Computing Co.
The Qiandaohu Intelligence Valley was founded through the joint efforts of the governments of Xihu district and Chun'an county. It has become a platform in Chun'an county to attract investment and develop digital economy.