Jakarta-Hangzhou flight resumes
| ehangzhou.gov.cn | Updated: 2020-07-31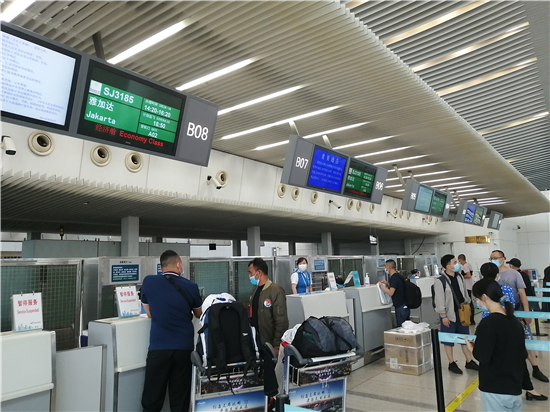 Passengers check in for a flight leaving from Hangzhou to Jakarta, Indonesia at the Hangzhou Xiaoshan International Airport on July 29 after a lengthy closure of the flight. [Photo/ori.hangzhou.com.cn]
Indonesia Sriwijaya Air's flight SJ3184, which carried 139 passengers, departed from Jakarta and arrived at the Hangzhou Xiaoshan International Airport on July 29. It was the first flight between Hangzhou and Indonesia since the flight was canceled due to the COVID-19 pandemic.
An hour after the flight arrived in Hangzhou, flight SJ3135 departed from Hangzhou to Jakarta, carrying 135 passengers.
The flight between Hangzhou and Jakarta used to operate every Wednesday. Residents departing from Hangzhou must present a work visa or permanent residence visa before boarding the plane.
According to a Hangzhou resident surnamed Li, who works at Zhejiang Thermal Power Construction Company, over 100 workers at his company took the flight to Jakarta to work on a local construction project at a power station.
Li expressed his excitement at the reopening of the flight, saying that he has waited for this moment for more than a half year.
The Hangzhou Xiaoshan International Airport is now gradually reopening international flights based on risk levels and Hangzhou's trade relations with various countries.
Authorities at the airport said that flights to and from Macao, Kuala Lumpur, Seoul, Sydney, Osaka, Tokyo, and Jakarta have now reopened. Flights to Singapore and Bandar Seri Begawan in Brunei will also reopen soon.
According to regulations, all passengers taking international flights to Hangzhou will be put in quarantine for 14 days after arriving.
The Hangzhou Xiaoshan International Airport has also reminded passengers leaving from Hangzhou to other countries to preview local epidemic control policies to avoid any unpleasant surprises.