Returned student pursues dream in Hangzhou, original Han clothing welcomed at home and abroad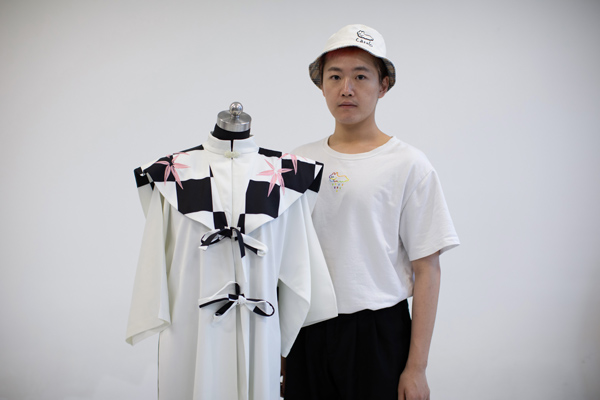 Chen Jizhou and his Han clothing [Photo/IC]
The Han Chinese clothing designed and manufactured by Chen Jizhou, a student who dropped out of RMIT University in Australia in 2016, has been gaining in popularity among buyers both at home and abroad, local media reported on Aug 12.
Formerly a student of architectural design, Chen said his original career plan was to join an architectural firm after graduation, and he had never imagined working on a sewing machine and making plates and sample dresses.
His mind gradually changed when he took 'the history of world clothing', an optional course at his school, and the idea of returning to China and making Han clothing with both Chinese and foreign characteristics blossomed.
Chen convinced his parents to have confidence in him and he started his own business in Hangzhou, the national hub of e-commerce which is also home to Alibaba Group as well as numerous e-commerce insiders.
With fashionable yet distinctive designs, Chen's costumes made a big impact on the market and the sales revenues of his online shop reached 300,000 yuan ($43,200) in the first month, an amount which many debuting shops will never realize.
Chen perfects a Han costume. [Photo/IC]
Disputes and controversies also arose, as many questioned why Chen dressed up his models with freckles and western instruments, which were quite incompatible with the traditional Chinese clothing.
At first, Chen would angrily respond and argue with the netizens, but as criticism got more rampant, the young man decided to halt, take a breath, dig more into the art, and insist on his own style integrating classic and modern elements.
He created several hundred manuscripts, and this June, he was poised to restart his business.
Chen is now more mature in his designs as well as in his concept of life. His new costumes have won the hearts of both domestic and foreign buyers.
"It's my mission to combine Han Chinese clothing with more international features," Chen said.
April 27, 2021

April 23, 2021

April 19, 2021
March 11, 2021