Qing Dynasty royal fashion restored and exhibited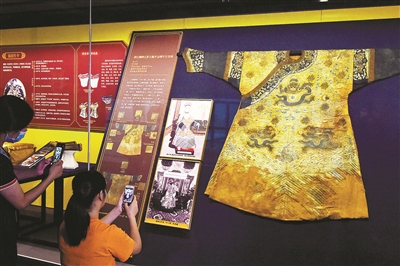 Royal costumes from the Qing Dynasty (1644-1911) are exhibited at the China National Silk Museum in Hangzhou. [Photo/hangzhou.com.cn]
The China National Silk Museum in Hangzhou, Zhejiang province is hosting a special fashion show for costumes worn by female nobility during the Qing Dynasty (1644-1911).
The collection includes 20 pieces of silk-made clothes and accessories, many of which belong to the legendary Empress Dowager Cixi, who seized power as the Qing Dynasty entered its twilight years amid a period of turbulence and global change.
She ruled China for 47 years and her power was envied in an era of male rulers. She was both loved and hated, described as ambitious, beautiful, and cunning. But there is one thing that everybody agrees on: the empress had good taste, especially in fashion.
The restoration plan for Cixi's belongings was drafted in 2013 and carried out by the China National Silk Museum in 2014. Nineteen of them were completed in 2018, while one particularly complicated one was successfully restored in July 2019.
Zhao Feng, director of the museum, said that the entire restoration process was shared publically to give people more insight into the stories behind the items.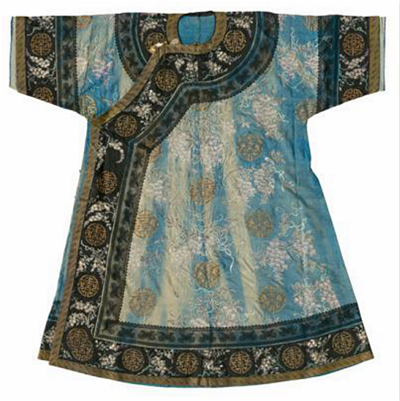 Although the Qing Dynasty was China's last dynasty, its fashions have inspired many photographers and textile scholars. [Photo/China National Silk Museum]
The dragon robe that Cixi wore when she was buried is now on display. It features 31 Chinese characters for "Buddha" embroidered with gold thread. The robe is adorned with dragon patterns, which were only allowed to be worn by emperors or empresses.
A sutras quilt was used to cover Cixi's body. It is 2.9 meters long and 2.75 meters wide and has more than 25,000 Chinese characters on it. Unfortunately, the 820 pearls that originally adorned it have been lost.
The quilt was woven in Nanjing and the craftsmanship that went into it is unparalleled. It was not until July 2019 that the quilt was restored.
A lotus quilt was laid under Cixi's body. The quilt is embroidered with delicate lotus patterns, and test results have shown that it used synthetic dyes imported from abroad in the late 19th century.
The quilt under Cixi's body [Photo/China National Silk Museum]
A garment embroidered with the Chinese character "shou" (longevity) was also delivered from the Palace Museum. It is trimmed with lace, which was introduced to China in the 1860's and became the most significant fashion trend for women's wear of the time.
Although the Qing Dynasty was the last in China, its fashions provide a huge source of inspiration for the modern textile industry.
The fashion show will run until Nov 8 at China National Silk Museum.