Environment or development? Senior talent hub infuses intellectual momentum into Chun'an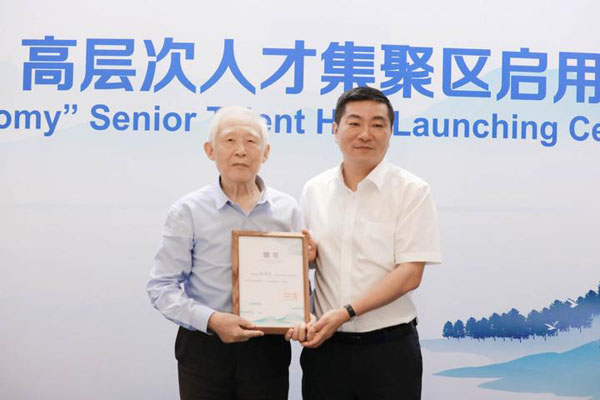 The launch of the Eco-economy Senior Talent Hub [Photo by Zheng Wenbin/zjol.com.cn]
The picturesque Qiandao Lake, or Thousand-island Lake, in Chun'an county, Hangzhou, saw the launch of a talent hub on the ecological economy Aug 16, local media reported.
The hub is expected to infuse talent and intellectual momentum into Chun'an, as the county undergoes a critical stage in preserving the ecological environment while seeking new development opportunities through it.
"Chun'an is exploring the possibility of enhancing its ecological strength. The senior talent hub was its latest move, which also reflects Chun'an closely following the idea that lucid waters and lush mountains are invaluable assets," said an official from the county.
The hub is on Pailing Island and covers 28,800 square meters. It is equipped with an administrative center, a think tank, a research result sharing center and a logistics department, which can offer settled institutions and senior talents spacious room and facilities for daily office work, research and development, scientific monitoring, exchange and cooperation, and exercises and entertainment.
A total of 20 experts, academicians and research institutes have settled in the hub, along with Chen Guoliang, Rao Zihe and Jiang Hualiang, three academicians of the Chinese Academy of Sciences, who are employed as members of the Qiandao Lake Think Tank.