Games helps more people realize their dreams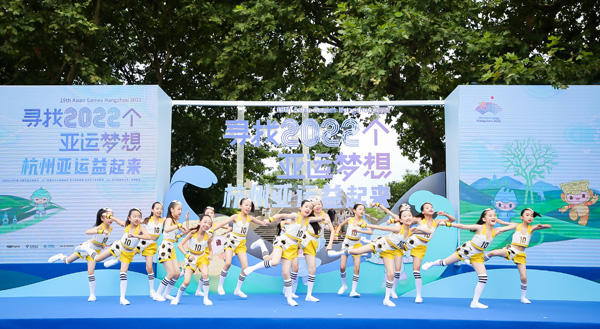 A launch ceremony for an online public welfare platform of the 19th Asian Games Hangzhou 2022 is held in Hangzhou, Zhejiang province, on Aug 8. CHINA DAILY
Hangzhou to launch 2022 campaign for thousands of people to have their aspirations granted
The 19th Asian Games Hangzhou 2022 will be held from Sept 10 to 25, 2022 in Hangzhou, capital of East China's Zhejiang province. China Daily is teaming up with the organizing committee of the Games to spotlight the preparation for and facts about the Hangzhou Asian Games.
Sports and public welfare naturally go hand in hand. With that in mind, the Hangzhou Asian Games Organising Committee has not only been promoting the Hangzhou Asian Games, but it has also organized a series of related public welfare activities.
It launched the 2022 Asian Games Aspirations program last year to collect the dreams and aspirations of people across the world.
The program had garnered more than 110,000 submissions by the end of July, according to a committee spokesperson.
The program was launched on Dec 15, 2019, the 1,000-day countdown to the opening ceremony of the Hangzhou Asian Games, in partnership with the Zhejiang Youth Development Foundation, the Zhejiang Provincial Charity Foundation and other organizations.
Lu Chao is a medic working at the First Affiliated Hospital of Zhejiang University's College of Medicine.
Lu spent 45 days in Wuhan helping the city fight the COVID-19 pandemic. He said his dream is to take a photo with the athletes of the Chinese women's volleyball team and he wants to attend the opening ceremony of the Hangzhou Asian Games.
Lu wrote that the grit and determination displayed by China's national women's volleyball team gave him mental strength during his time in Wuhan.
Another participant in the program is 45-year-old Xiao He, whose dream is to let the world hear children's folk rhymes from China. Over the past two years, Xiao and his team have visited more than 200 seniors across China to record every nursery rhyme they can recall.
Xiao said that children's folk rhymes represent the sincerest of blessings of love, and it would be a shame for them to vanish from society.
The program will last till September 2022 when the Hangzhou Asian Games kicks off.
It consists of three parts: collecting dreams, fundraising and realizing those dreams. Some dreams have already come true.
On July 25, the organizing committee released the Games' first charity licensed product: tableware embroidered with a Hangzhou lotus pattern theme on both sides.
The embroidery was done by Zhou Xiuping, who was among the first people to submit to 2022 Asian Games Aspirations.
"My dream is to make Hangzhou embroidery known and loved by more people through the Hangzhou Asian Games," Zhou said. "Now the dream has come true."
An official surnamed Chen from the organizing committee told China Daily: "We will continue to search for people's dreams and help people realize them.
"Meanwhile, we will launch an online activity to collect the songs, photos and words that touch and empower people."
Some sports celebrities have been invited to serve as Asian Games dream ambassadors, including diving champion Guo Jingjing, sports and soccer commentator Liu Jianhong and former China's Series A League player Liu Cheng.
"As a former athlete, I should contribute to the Hangzhou Asian Games," Guo said. "I feel honored to be chosen as a charity program dream ambassador."
"We hope these sports celebrities will use their power to influence and encourage more people to chase their dreams and finally realize them," an official from the organizing committee's marketing department told China Daily.
The charity campaign has attracted 16 companies and organizations, all keen on public welfare, as dream supporters.
They include Hangzhou-based automaker Geely, China Telecom and China Mobile, and charity organizations such as the Zhejiang Provincial Charity Federation, Young Footballer Growth Fund and the Hangzhou Sports Lottery Management Center, as well as media units such as Sina Weibo, 163.com and Zhejiang provincial broadcasting stations FM88,FM101.6 and AM810.
"The Hangzhou Asian Games is not only a sports event, but also a stage for dreams. We hope that with the influence of the sports event, more enterprises, organizations and individuals that are keen on public welfare will join us to take part in the charity undertaking," said Du Mengfei, deputy director of the committee's Marketing Department.
In a latest development, the organizing committee teamed up with the Alibaba Foundation to create an online public welfare platform on Aug 8, the 12th National Fitness Day.
According to committee officials, the platform, available on 29 apps including Taobao and Alipay, aims to provide ways for people to participate in public welfare activities and support Hangzhou Asian Games through a green and healthy lifestyle. Users of the online platform can click on different sections to take part in various charitable activities.
For example, they can record their low-carbon footprint through daily actions on the "Yiqilai" section.
For each 5,000 steps they take, they can donate a football equipment bag to a child in a remote mountainous region.
In the upcoming days before the opening of the 19th Asian Games Hangzhou 2022, the organizing committee will invite people from all walks of life to participate in the preparations of the sports event, thus helping more people realize their dreams.
The new mode of "donation +charity+ internet" will create a sky full of glistening dreams that came from and will always be shared by the Hangzhou Asian Games.

Scan the code to apply for Asian Games Football Dream school

Scan the code to submit your Asian Games aspiration
September 29, 2020

September 16, 2020
September 27, 2020