Hangzhou holds event promoting traditional culture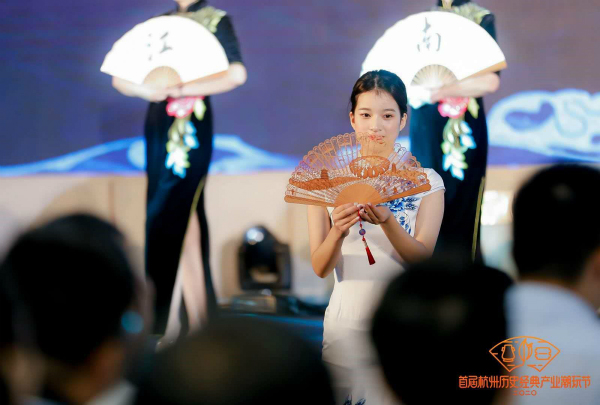 A fan dance is performed at Hangzhou's first event dedicated to promoting the city's traditional culture held at the International Innovation and Entrepreneurship Center in Qiantang New Area on Sept 5. [Photo/hangzhou.com.cn]

Hangzhou, capital of East China's Zhejiang province, held its first event dedicated to promoting the city's traditional culture at the International Innovation and Entrepreneurship Center in Qiantang New Area on Sept 5.
The event aims to combine historical industry with modern elements to revive the traditional cultural heritage.
The event displayed local calligraphy, seal cuttings, silks and porcelains in Hangzhou as well as several works by esteemed artists.
Hangzhou has a long cultural history and is rich in historical industrial resources, said Tang Liyu, deputy director of the Hangzhou economy and information bureau.
"Technological progress, industrial innovation, internet technology and the emergence of new retail have given more room for traditional culture to grow," Tang added.
Visitors at the event can also admire qipao and hanfu shows as well as Chinese ceremonies, and even have the chance to participate in the shows themselves.
Wanwudezhi, a cultural e-commerce platform, is the organizer of the event. Tang Jinshang, CEO of the company, expressed hope that the event will strengthen Hangzhou's image as a historical and cultural city and promote the development of traditional Chinese culture.
During the event, the Hangzhou economy and information bureau released the Hangzhou Historical Industry Map, in which 50 tourism sites featuring a combination of traditional Chinese culture and modern elements are included.
Wanwudezhi also teamed up with other associations and companies to set up the Hangzhou historical industry league, which will help accelerate the integration of historical industry and modern culture.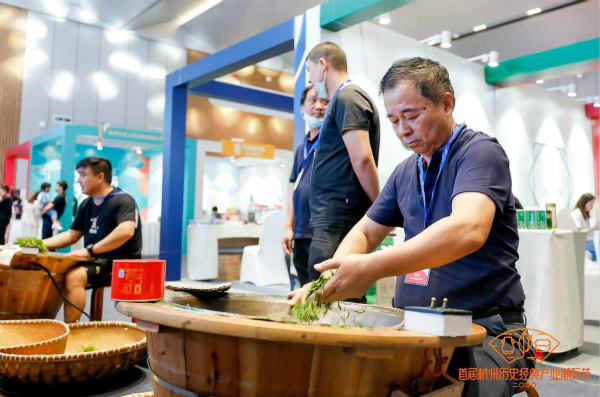 An exhibitor stir-dries tea at Hangzhou's first event dedicated to promoting its traditional cultural heritage. [Photo/hangzhou.com.cn]
September 29, 2020

September 16, 2020
September 27, 2020