Yueju Opera: Known for its beautiful singing of lyric librettos and elegant expressiveness
Yueju opera, one of the five major Chinese operas and the second largest type nationally, is known as "Chinese drama" abroad. Yueju opera is skillful in narration and sentiment, its performance is characterized by beautiful singing with aesthetic and elegant moods. It has at least 13 schools with major themes regarding wit and beauty, and prevails in Shanghai, Zhejiang, Jiangsu, Fujian, Jiangxi and Anhui provinces, as well as cities in northern China such as Beijing and Tianjin.
Origin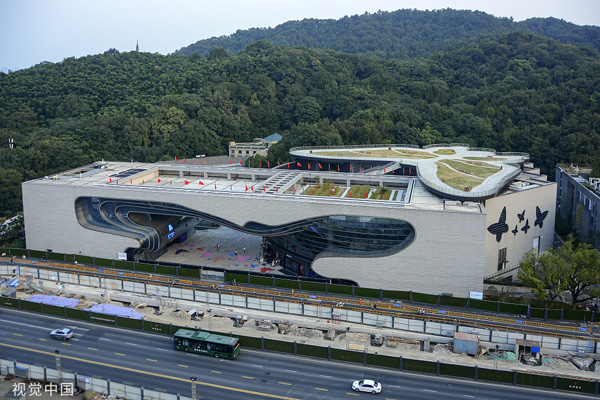 The Yue Theatre is located in the West Lake scenic area in Hangzhou, Zhejiang province. The Sheng county of Zhejiang province is the birthplace of the Yueju opera and the theatre is a performing venue dedicated to this operatic art. The architectural design has led to it being informally nicknamed the Butterfly Theatre. [Photo/ VCG]
Yueju opera originated in late 19th century in Sheng county of East China's Zhejiang province as a form of public entertainment. The librettos were mostly collected from conversations between farmers at work. Audiences love these ballads because of their vivid descriptionsof daily life. In the mid 19th century, Sheng county suffered a calamity and some farmers and craftsman created the popular tunes, earning income by singing in the village in springtime.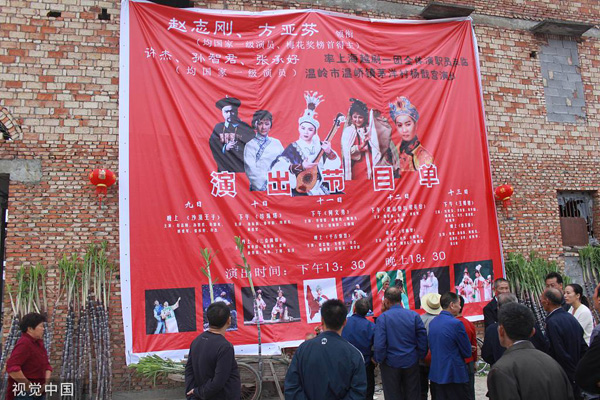 A large-size poster of a Yueju opera company giving a performance in the countryside, where the Yueju opera still enjoys popularity. [Photo/VCG]
Over the years, these accumulated librettos became the fundamental source materials for Yueju opera, and the folk music gradually developed its own style. Artists also began to integrate simple acting and use accompanying instruments in their performances. The Yueju opera became increasingly well known, both in Sheng county and neighboring counties.
In Mar 24, 1955, the Shanghai Yueju Opera Theater was set up, bringing together many talents in related fields such as scriptwriters, directors and actors.
Costume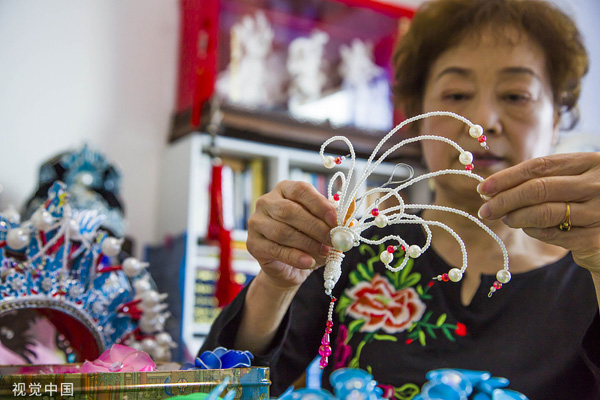 A craftswoman with her handmade accessories for the Yueju opera [Photo/VCG]
In the early stages of Yueju opera's development, actors normally used the same clothes they wore in their daily lives such as robes, long gowns, and dresses. They sometimes borrowed formal dress from the statues of god in the temple or shrine, and put the clothes in a bamboo basket which they carried when they went to perform in various villages and towns. The bamboo baskets were the prototype of their costume cases.
The professional design of Yueju opera clothes started in 1943 when the stage and costume designer Han Yi (1922-2006) designed clothes for the main characters in the opera Rainy Night Dream (Yuye jingmeng). ForThe Fragrant Concubine (Xiang fei), starring the renowned actress Yuan Xuefen (1922-2011), staged in November 1943, Han Yi took the lead in designing all the clothes for the characters in order to harmonize the artistic style of the opera. At that time, performers no longer had to buy their costumes all by themselves. Instead,the theatre owner shared the costs with them according to the primacy of the characters they played. This move marked the reform of costume practices in Yueju opera.
After years of exploration and adjustment, Yueju opera has established its own costume style characterized by soft materials in delicate and bright colors. This particular styledistinguishes it from other traditional Chinese operas.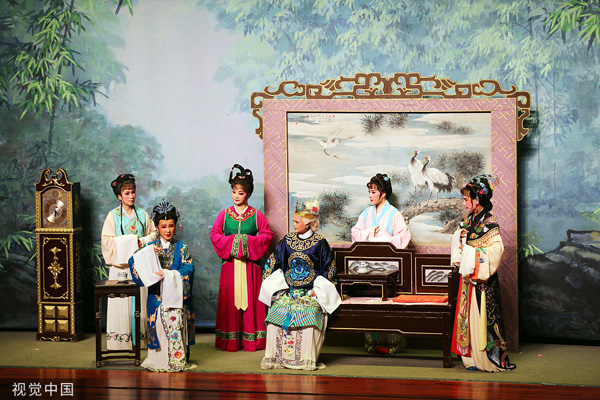 Actresses wearing costumes of various styles in the opera Dream of the Red Masion (Honglou meng) [Photo/VCG]
Makeup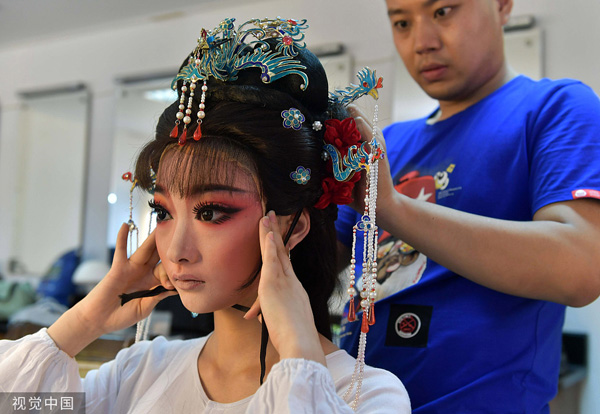 A make-up artist tidies up the hair of an actress before a Yueju opera performance. [Photo/VCG]
In the early phase of Yueju opera, the male actors normally didn't wear makeup. They loosened their hair, wearing it in a bun and wiping off the rouge and lead powder.Female actors of the grass stage however wore makeup, soaking red paper in water to create blush. They didn't pencil their eyebrows but instead used the ash at the bottom of the pan as a simpler alternative.
When Yueju opera troupes entered Shanghai around 1917, actors started to borrow the way of doing makeup from Peking opera, including the use of white foundation, red blush and ink color to pencil their eyebrows.
In the year 1942, actors and actresses began to use greasepaint as makeup in performing Murdered Ghost in the Ancient Temple (Gumiao yuanhun). From then on, water-based makeup was fully replaced by greasepaint. From the end of the 1970s to the early 1980s, Yueju opera became committed to these new beauty, painting and hair preparation methods.
Acclaimed Artists
Yuan Xuefen (1922-2011)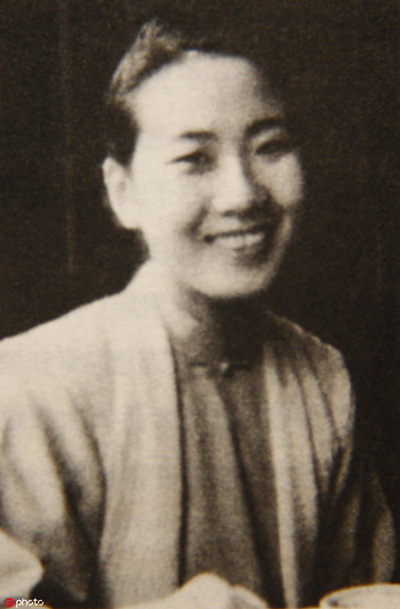 Yuan Xuefen in 1949 [Photo/IC]
Yuan Xuefen was a noted performer in the Yueju genre of Chinese opera. She has been called "arguably the most important actress in the recent history of Yueju opera".The only other artist to be ranked with her is Fu Quanxiang (1923-2017).
Yuan is best known for playing the title role in the 1946 production of Wife of Xianglin(Xianglin sao), an adaptation of a work by the influential Chinese writer Lu Xun (1881-1936). Before beginning the adaptation of the work, she personally visited the home of Xu Guangping and Zhou Haiying, Lu Xun's wife and son, and asked for their permission to take on the role. According to Zhou, his mother quickly granted the request.
Yuan is credited with leading the reform of YuejuOpera during the 1940s. Changes she made include the extensive use of lighting and scenery, and a new, soft style of costume. This all led to the establishment of the Yuan School. Her voice is weeping-like, expressive in presenting the kind and docile characters of traditional Chinese women who suffered from hardship and deprivation. In the 1940s, she was even known as the " actress of tragic female roles".
Fu Quanxiang (1922-2011)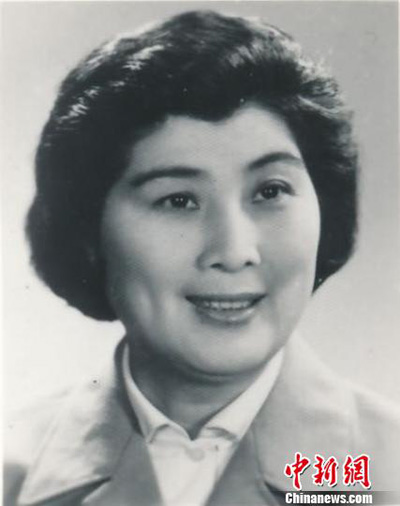 Fu Quanxiang [Photo/Chinanews.com]
Fu Quanxiang was honored as the coloratura soprano of Yueju opera and particularly focused on handling the coloratura voice. She set up a School named after her, "Fu", which is now an important school of Huadan (female roles) for Yueju opera.
Fu Quanxiang had a bright voice with a wide range. She was talented in combining true voice with falsetto and using strong external actions to express inner feelings. She was extremely good at performing female tragic roles. Her representative works included Butterfly Lovers(Liang Shanbo yu Zhu Yingtai), The Peacock Flies to Southeast (Kongque dongnan fei) and Courtesan Du Shiniang (Du Shiniang).
Yin Guifang (1919-2000)
Yin Guifang was a Chinese Yue opera singer-actress who played Sheng roles (male characters). She was sometimes known as the "Empress of Yue opera". Born into a poor family in Xinchang county, Zhejiang province, Yin began her career at the age of 10 and rose to become one of the biggest stars of the 1940s in Shanghai.
Yin's performances were deep and empathetic. Her singing tone was simple and free, with regular up and downs, while her voice was mellow, full, fine and smooth. When playing young male roles, the majority of actors prefer to imitate her way of singing.
Selected Yueju Opera Classics
Wife of Xianglin (Xianglin sao)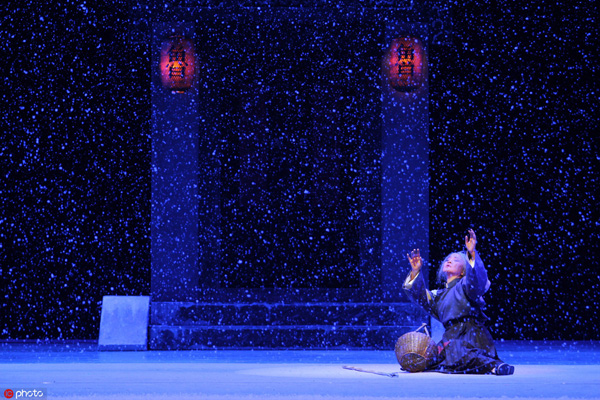 Stage photo of the Yueju opera Wife of Xianglin[Photo/IC]
Wife of Xianglin was adapted from the novel Blessing (Zhu fu) by Lu Xun. The first adapted version was completed in 1946 by the librettist Nan Wei. It tells a tragic story of a widow who looses her child and eventually dies in misery.
The wife of Xianglin, a young widow, was sold by her mother-in-law to a hunter named He Laoliu in a mountainous area due to heavy family debt. She was unwilling to marry again and fled to the home of master Lu Si to help with farm work. Several months later, she was spotted and grabbed to marry He Laoliu, with whom she had a child. After a short while, He died of illness and her child was attacked and eaten by a wolf. She then returned to work in Lu Si's home. Since she was again widowed, she was considered to be ill-fated which made Lu Sitry to avoid her.
Afraid of being cursed after death, she donated two years of savings to the Earth Temple for atonement. However, she was driven out of the door and finally became a beggar. One New Year's Eve, she fell down in a windstorm and died.
Butterfly Lovers (Liang Shanbo and Zhu Yingtai)
Thus opera was adapted from an ancient folklore of an Eastern Jin Dynasty (265-420) about the tragic love story ofLiang Shanbo and Zhu Yingtai.
Zhu is the ninth child and only daughter of the wealthy Zhu family of Shangyu, Zhejiang province. Although women are traditionally discouraged from taking up scholarly pursuits, Zhu manages to persuade her father to allow her to attend classes disguised as a man.
Zhu befriends her classmate Liang. They study together for the next three years, during which Zhu falls in love with him, but the bookish boy fails to notice the feminine characteristics exhibited by his classmate. One day, Zhu receives a letter from her father, asking her to return home as soon as possible. She has no choice but to pack her belongings immediately and bids Liang farewell. However, in her heart, she has already confessed her love for Liang and is determined to be with him for all eternity.
Zhu finally comes up with an idea and tells Liang that she will act as a matchmaker for him and Zhu's "sister". Before they part, Zhu reminds Liang to visit her residence later so he can propose to marry her "sister". Liang and Zhu reluctantly part ways at the Changting pavilion.
Months later, when Liang visits Zhu, he discovers that she is actually a woman. They are devoted to and passionate about each other and they make a vow to be together "till death do us part". The joy of their reunion is short-lived as Zhu's parents have already arranged for her to marry a wealthy merchant, Ma Wencai. Liang is heartbroken when he hears the news and his health gradually deteriorates until he becomes seriously ill. He dies in office later as a county magistrate.
On the day of Zhu's marriage to Ma, strong winds prevent the wedding procession from escorting the bride beyond Liang's grave, which lies along the journey. Zhu leaves the procession to pay her respects at Liang's grave. She descends into bitter despair and begs for the grave to open up. Suddenly, the grave opens with a clap of thunder. Without further hesitation, Zhu throws herself into the grave to join Liang. Their spirits emerge in the form of a pair of butterflies and fly away together, never to be separated again.