Geely launches open-source EV platform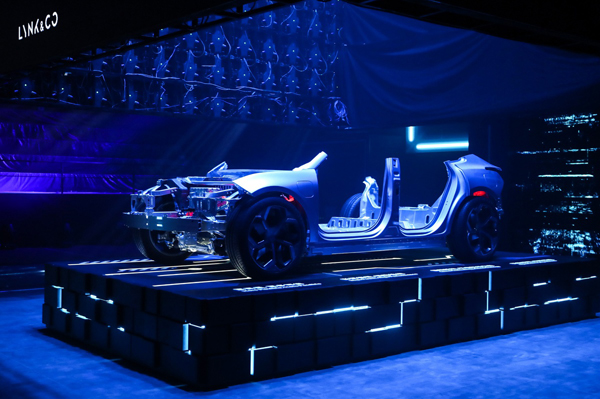 Geely unveils its electric car platform, called Sustainable Experience Architecture, on Wednesday night in Beijing. [Photo provided to chinadaily.com.cn]
Zhejiang Geely Holding Group, owner of Volvo, launched its electric car-only platform on Wednesday. The Chinese carmaker said it will share the architecture among its nine brands and also make it accessible to other carmakers.
The first model to be based on the architecture will be the Lynk & Co Zero Concept, which was unveiled on Wednesday.
The model, having a range of over 700 kilometers and featuring co-pilot functions powered by Mobileye, will go into production and hit the market in 2021.
Li Shufu, Geely's chairman and founder, said: "Our development of this transformative electric vehicle architecture marks the biggest leap forward at Geely in more than a decade."
The 18-billion-yuan ($2.64 billion) platform was the joint effort of the carmaker's R&D centers in China, Sweden, the UK and Germany, according to Geely President An Conghui.
He said the idea of developing such a platform started around five years ago. "Architectures are the core competitive edge in the automotive industry," said An.
Geely said the electric car architecture can accommodate smaller A-Segment cars as well as larger D and E-segment vehicles. It will also have a variant developed for light commercial vehicles.
Among other things, the architecture will features CATL's battery technology that lasts 2 million kilometers, highly autonomous driving in collaboration with Mobileye, and smart digitalized onboard functions.
Li said: "This far-reaching innovation will greatly expand the volume and scalability of our zero-emission models, and we intend to offer the benefits of this innovation to other manufacturers – reflecting common interests in our industry for addressing the challenges of climate change."
Geely said it has entered preliminary discussions with other global carmakers about potential use of the architecture.
An said developing an architecture is costly, and some carmakers may want to use those by other carmakers.
"But the key thing is that your architecture have to be competitive," said An.
Within Geely, An said seven brands are developing 16 vehicles on the architecture, and many of them are scheduled to roll off the assembly line starting in 2021.
The company said hundreds of thousands of vehicles based on the platform will first be produced in China. The number will surge when other subsidiary brands introduce their electric car vehicles.
Some of them are already sharing the company's Common Module Architecture, based on which around 700,000 vehicles have been produced since its introduction in 2018.
China has been the world's largest new energy vehicle market since 2015. Last year, more than 1.2 million electric cars and plug-in hybrids were sold, around 4.5 percent of total vehicle sales in the world's largest vehicle market, according to the China Association of Automobile Manufacturers.