Jiande holds entrepreneurship competition
| ehangzhou.gov.cn | Updated: 2020-09-27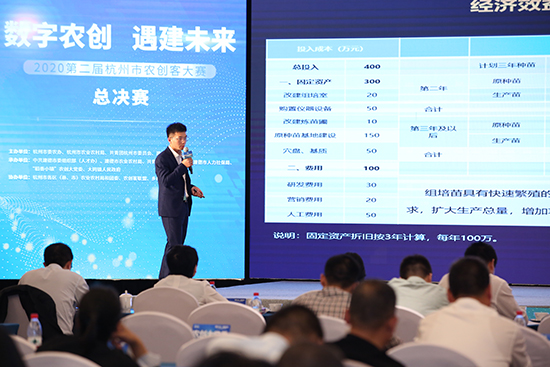 A contestant presents his project at the 2020 China Jiande Entrepreneurship Competition for High-level Skilled Workers, which was held in Jiande, a county-level city in Hangzhou, on Sept 22. [Photo/hangzhou.com.cn]
The 2020 China Jiande Entrepreneurship Competition for High-level Skilled Workers was held on Sept 22 and aims to encourage more high-caliber skilled workers to start businesses in Jiande, a county-level city in Hangzhou, capital of East China's Zhejiang province.
In recent years, Jiande has intensified efforts to attract skilled workers by providing them with favorable policies and improved services.
In 2019, the county-level city launched 18 policies meant to create a more favorable environment for skilled workers. High-caliber professionals coming to work in Jiande will receive living allowances, subsidies for buying a house, and up to 100 million yuan ($14.66 million) in financial assistance for entrepreneurship projects.
The competition involved projects related to biological medicine, new materials, general aviation, and intelligent manufacturing.
It started on Sept 22 and lasted for three months, involving more than 100 projects.
Two winners were selected after several rounds of competition to share the first-place award. Three people shared the second-place award and five shared the third-place award.
Winners of the competition can receive up to 6 million yuan in financial assistance for their entrepreneurial undertakings and 6 million yuan in loans at favorable interest rates.