Infographic: All you need to know about the 16th CICAF
By Wu Yan | CGTN | Updated: 2020-09-28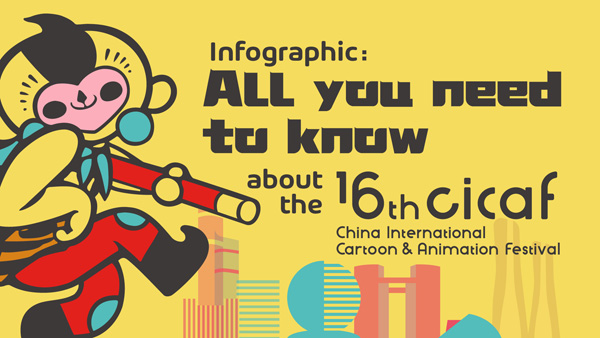 The 16th China International Cartoon and Animation Festival (CICAF), one of world's largest animation celebrations, will open with a reduced size in Hangzhou, east China's Zhejiang Province, on Tuesday.
Due to the coronavirus pandemic, no overseas exhibitors are invited this year to attend the offline events, and a limited number of 30,000 visitors are allowed daily to its main venue at the provincial capital's White Horse Lake Animation Plaza.
Besides the industry expo, a number of business conferences, master classes and panel discussions will be held to explore the future of the animation industry amid the pandemic.
Various activities, including the Cosplay Super Show, "Character Voice" Competition and International Children's Cartoon Contest will be available for industry insiders and animation fans. Also, the International Animated Film Week will screen award-winning animated films and other selected animations online and offline.
A lineup of animated films, animated short films and animated series from 19 countries and regions will compete for this year's "Golden Monkey King" Awards in two categories: the General Awards and the Promising Awards.
Most of the events will be live broadcast online. The festival will last for six days to October 4.

Infographic and top image designer: Chen Yuyang