Etiquette contest launched for Hangzhou Asian Games
| chinadaily.com.cn | Updated: 2020-09-28
Video of the International Etiquette Contest for the 19th Asian Games Hangzhou 2022 [Video provided to chinadaily.com.cn]
The Hangzhou Asian Games Organising Committee (HAGOC) announced the launch of the International Etiquette Contest for the 19th Asian Games Hangzhou 2022 on Sept 27 in Hangzhou, East China's Zhejiang province.
The official registration channel opened simultaneously.
The contest will last for one year. The registration period started on Sept 27 and will end on Feb 10, 2021. Online and offline registration will be available.
The competition includes two major categories - urban civilisation etiquette and game service etiquette, and will be grouped by age.
HAGOC will organise the auditions, preliminaries, semi-finals and finals and will select 10 winners from each category. Each winner in the urban civilisation etiquette category will receive a pre-tax bonus of 5,000 yuan ($733), while winners in game service etiquette category will receive a pre-tax bonus of 10,000 yuan. Winners will also have the chance to be recommended as volunteer and etiquette service staff for the Hangzhou Asian Games in the future.
Interested parties can learn more about registering on the HAGOC official website (www.hangzhou2022.cn), official WeChat account (hzyy2022) and other channels.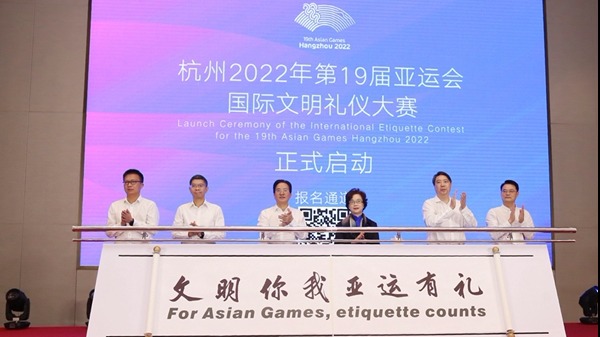 The International Etiquette Contest for the 19th Asian Games Hangzhou 2022 kicks off on Sept 27 in Hangzhou, Zhejiang province. [Photo provided to chinadaily.com.cn]