Hangzhou opens direct flight to Macao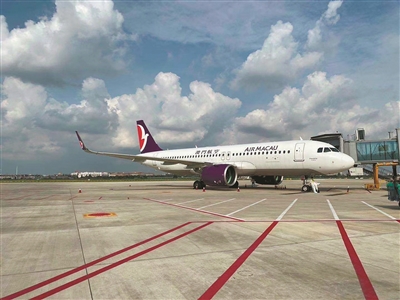 A plane owned by AirMacau at the Hangzhou Xiaoshan International Airport. [Photo/hangzhou.com.cn]
Residents from the Chinese mainland have been able to travel to Macao since Sept 23, as the city reopened travel endorsements on the same date.
According to statistics released by Ctrip, an online travel platform, the number of searches for travel-related items in Macao surged 500-fold on the day.
Data from Qunaer, another online travel platform, shows that on Sept 23 the number of hotels booked in Macao was seven times larger than the previous day.
While Macao is gaining in popularity among travelers from the Chinese mainland, the cost of traveling in the city decreased to just 60 percent of that in the same period last year.
Macao proved effective at managing the COVID-19 outbreak, with just 46 confirmed cases and no deaths. No medic was reported to be infected.
Hangzhou, together with Ningbo and Wenzhou in Zhejiang province, reopened direct flights to Macao after the travel restrictions were lifted.
Individuals must show nucleic acid testing results issued within seven days of checking in at the airport. If the test result is negative, they will be allowed to board.
September 29, 2020

September 16, 2020
September 27, 2020