Wei Lizhong and woodblock printing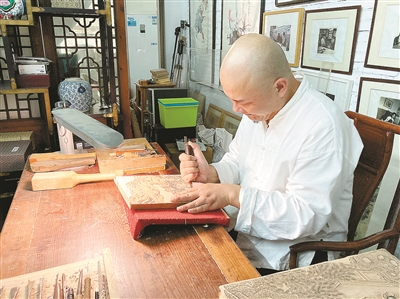 Wei Lizhong works on a woodblock in his studio in Hangzhou. [Photo/hangzhou.com.cn]
Wei Lizhong is a folk craftsman who has been devoted to woodblock printing in Hangzhou, Zhejiang province, for three decades.
First encountering the art form in 1990, Wei said he was impressed to learn that the traditional Chinese painting, Yandang Mountain, was printed and colored from 127 woodblocks.
He wanted to discover more about the art and so his decades of dedication started.
The niche art form requires a variety of skills, from the essential techniques of creating a painting and dividing it into different small pieces, to delineating, molding, carving the woodblock, coloring, and printing.
"Freeing my hands at the woodblock printing is like falling in love. I was immersed in it and felt very happy," Wei said.
He set up a studio in a secluded corner in Hangzhou in 2001 and named it Shizhu Pavilion, a woodblock printing brand widely known in the late Ming Dynasty (1368-1644) which had witnessed the heyday of the art.
"I look forward to setting up a woodblock printing museum in Hangzhou and sharing the history and development of the art with more people," Wei said.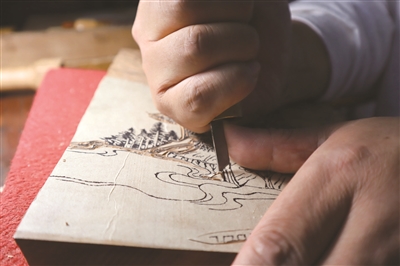 The art requires delicate carving on the woodblock. [Photo/hangzhou.com.cn]
April 30, 2021

April 19, 2021
March 11, 2021