Hangzhou lifts 23 remote counties in Hubei, Guizhou out of poverty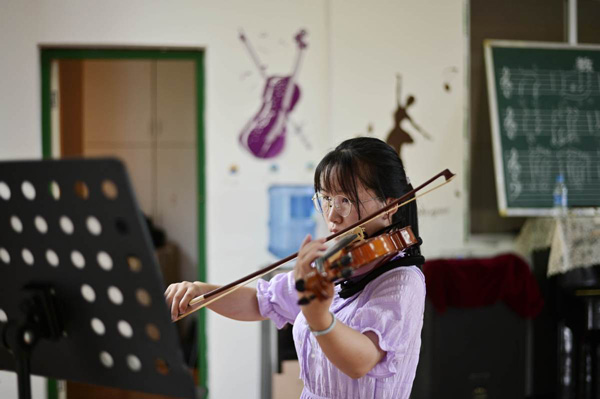 A student practices violin at a middle school in Congjiang county, Southwest China's Guizhou province. [Photo by Wu Dejun/For chinadaily.com.cn]
Hangzhou, capital of East China's Zhejiang province, has lifted 23 remote counties in Central China's Hubei and Southwest China's Guizhou provinces out of poverty, local media reported.
The counties are all located in the Enshi Tujia and Miao autonomous prefecture in Hubei and the Qiandongnan Miao and Dong autonomous prefecture in Guizhou.
Two of the 23 counties – namely Congjiang and Rongjiang in Guizhou – have reached poverty alleviation standards and are waiting to be evaluated.
Statistics show that Hangzhou has delivered a total of 1.27 billion yuan ($189 million) in financial aid to the two regions, dispatched 528 skilled technicians there, and helped 12,000 people find jobs in Zhejiang, as well as another 13,600 to work in their neighborhoods.
Hangzhou also brought in 4.3 billion yuan in industrial investment and convinced local residents to spend 1.29 billion yuan on products and services from these areas.
The Hangzhou government has said that future support to the two prefectures will focus on rural vitalization.
The city has also been appointed by the central government this year to partner with 18 villages in Xide county, Liangshan Yi autonomous prefecture, Sichuan province. Thirty-four companies and social organizations have joined the scheme, and 10.52 million yuan in money and donations have been sent to the region.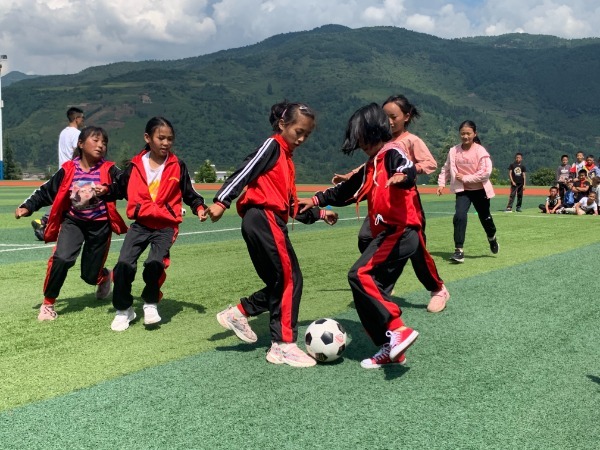 Girls play soccer at Tiedaobing Hope School in Puge county, Liangshan Yi automonous prefecture, Sichuan province. [Photo by Fang Aiqing/China Daily]
April 30, 2021

April 19, 2021
March 11, 2021