Innovation park welcomes high-end overseas talent, conceives quality projects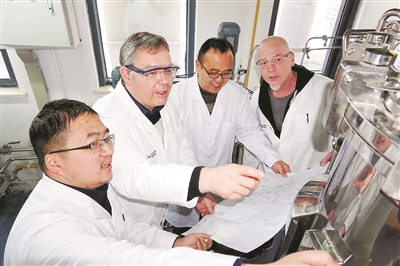 Chinese and foreign experts work on a new biodegradable material at the Sino-German Biology Base New Materials R&D Center in Gongshu district, Hangzhou. [Photo/hangzhou.com.cn]
The International Talents Entrepreneurship Innovation Park in Gongshu district, Hangzhou has welcomed over 30 high-end foreign talents and achieved fruitful results since its establishment in July 2017, local media reported.
These achievements were mostly seen in industries such as life health, information technology and new materials. For example, the Sino-German Biology Base New Materials R&D Center specializes in turning biodegradable materials into daily products such as shopping bags, straws, facial masks, cups and even clothes.
The man behind this technology is Dr Albrecht Laufer, who used polylactic to replace traditional crop materials such as corn and carbohydrate, thus achieving cost and food savings.
Laufer was recognized by the Gongshu district as an A-level foreign talent and his project was the recipient of a 15 million yuan ($2.24 million) grant.
Virchow Laboratory Joint Medical Center, which was opened in 2019, is another example of deepening Sino-foreign healthcare connections. Affiliated with the Germany-based Virchow Laboratory Groups, the center has carried out frequent cooperation with local hospitals as well as those in Shanghai in conventional pathological diagnosis, molecular diagnosis, remote pathological diagnosis, and artificial intelligence-assisted diagnosis.