Community solves problems by involving all residents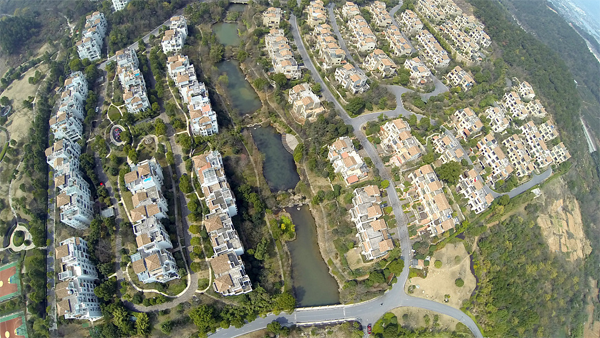 A bird-eye view of Liangzhu new town in Hangzhou, East China's Zhejiang province. [Photo/CFP]
Ask any motorist driving their car in the city, and they'll tell you finding a parking space is a nightmare. But residents of a community in a town in East China's Zhejiang province have found a solution to one of the most chronic problems by reaching a general consensus on the do's and don'ts on the premises.
For the past three years, drivers in Dajunnan community in Hangzhou's Liangzhu Culture Village, or Liangzhu new town, would park their vehicles anywhere on the streets, obstructing the way for others and causing traffic jams. This is despite ample underground parking spaces.
To solve the problem, community residents, in collaboration with the property management and local authorities, drew up rules that would punish offenders with fines. Their initiative got the backing of more than 82 percent of all community residents. In July, a barrier gate arm was installed as the new parking rules came into effect. The three-year problem was solved.
"Vehicle owners parked randomly in the past, but now the situation has improved a lot and changed fast. It shows that the participation of residents in solving problem is feasible," said Shi Xunyuan, a community resident and a member in the problem-solving group.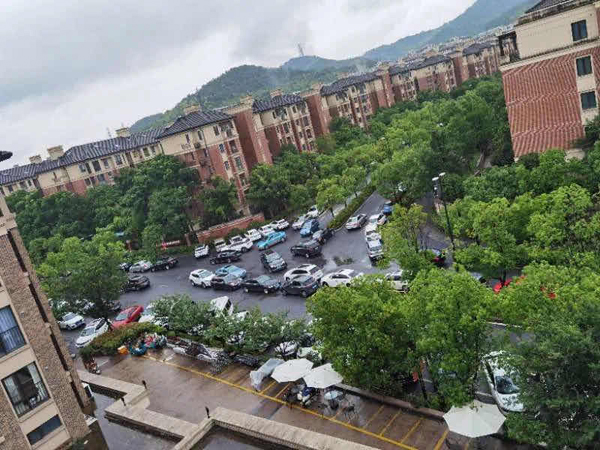 Vehicle owners park randomly in the Dajunnan community of Liangzhu new town in Hangzhou. [Photo/CGTN]
Liangzhu Culture Village is an international community established 20 years ago in the suburbs of Hangzhou. It houses nearly 20,000 residents from about 30 countries and regions.
"The residents have different customs and values," said Xu Yifeng, the local community Party secretary. "Parking problems are a concern for every resident, and every resident has the responsibility of tackling the problem. We encourage residents to use their wisdom in solving community problems."
The case in Liangzhu is an example of increased initiatives that Chinese residents are taking in community management.
Earlier this year, a delivery locker company announced it is charging fees for delivery packages stored over 12 hours in smart lockers installed in residential communities around the country. The move was met with backlash and swift action as many community residents in Shanghai and Hangzhou reportedly boycotted the service, prompting the company to amend its decision.
At present, making policies and laws in the field of community governance are still in the preliminary stage of development in China. The issue of residents' autonomy of community cannot be solved by laws alone. It is necessary for communities to negotiate and formulate their own rules on the basis of relevant policies and laws, said Chen Youhong, director of Community Governance and Policy Research Center under Public Policy Research Institute at Renmin University of China.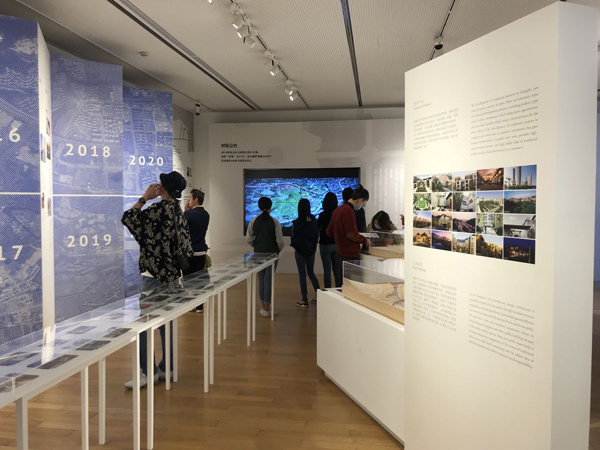 "The Villagers' Convention" is highlighted at an exhibition to celebrate the 20th anniversary of the establishment of Liangzhu new town. [Photo/CGTN]
"We are willing to participate in the public activity in the village … We will park the vehicles at designated areas," read one rule from "The Villagers' Convention," a non-compulsory and non-punitive document formulated by the residents of Liangzhu Culture Village, which was highlighted at an exhibition to celebrate the 20th anniversary of the town's establishment.
Zhang Yan, a town resident and curator of the exhibition, has witnessed the birth of "The Villagers' Convention." He recalled many moving stories. For example, residents volunteered to manage traffic in the town and pick up trash in parks regularly.
"People from different places and with different backgrounds are living here. They find a balanced lifestyle and make concerted efforts in dealing with problems," he said. "We have a vision and we keep trying to achieve it. It took 20 years to mature."
January 15, 2021

January 13, 2021

January 6, 2021
December 31, 2020