Intl Talent Week injects energy into regional development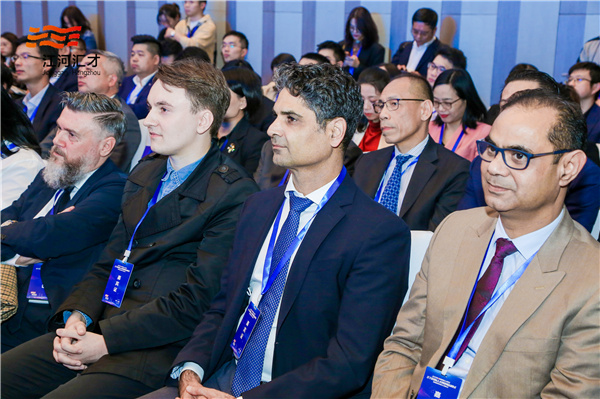 International guests attend the opening ceremony of the Jianggan District International Talent Science and Technology Week in Hangzhou, on Nov 8, 2020. [Photo provided to chinadaily.com.cn]
To attract and nourish potent human resources for local advancement, the Jianggan District International Talent Science and Technology Week in Hangzhou opened at the InterContinental Hangzhou on Nov 8.
Officials from the provincial government of East China's Zhejiang province and Hangzhou municipal government attended the opening ceremony, where Teng Yong, vice-chairman of the CPPCC Hangzhou and Party secretary of the Jianggan district committee, delivered the keynote speech.
Personnel policy rooted in local conditions
Six elites and 20 young talents, outshining other competitors during rigorous tryouts, were named as the first group of Qianjiang Business Talent of Jianggan District.
Economic and social development essentially comes down to the competition of talents. In May this year, with priorities on business growth, Jianggan district in Hangzhou launched the province's first policy on high-end business personnel, the Qianjiang Business Talents Policy, and issued advice on building an international hub for high-end business talents and upgrading the scale of the central business district in Jianggan.
Since July, the majority of applicants for the policy came with backgrounds in finance, business services, cultural and tourism industries, and international business. Among them are industry veterans with decades of experience, up-and-coming entrepreneurs and internet influencers who have millions of followers.
Overall ecosystem suited for talent cultivation
Based on the policy, all recognized Qianjiang Business Talents who work in Jianggan will be guaranteed a full range of services, such as career development assistance, hukou (or permanent residency), schooling for children, housing, health insurance and financial consulting.
Joining hands with institutions such as the International Business School of Zhejiang University, Jianggan district has established the Qianjiang Business School and opened training courses with multinational companies, think tanks and prestigious universities to build an entire network for high-end business talents.
During the opening ceremony, Ben Shenglin, dean of the Qianjiang Business School, introduced the school's training system and curriculums. He unveiled the school's name plaque with Feng Jing, deputy Party secretary and district chief of Jianggan, announcing the inauguration of the Qianjiang Business School.
Individual success in line with regional growth
"As a foreigner, I have personally experienced and witnessed Jianggan's supersonic development in recent years," said Li Guoxiong, general manager of InterContinental Hangzhou.
As the only overseas talent among the Qianjiang Business Talent awardees, Li has nearly 30 years of international hotel management experience and has won the Qianjiang Friendship Award and West Lake Friendship Award.
Liu Chunxiao, another winner and a lawyer by profession, chose Jianggan as a new starting point for her career. To this day, she's always considered moving to Jianggan the most critical step in her life.
"Even this year, when the pandemic took a big toll on the economy, my law firm's revenue is still up by almost 20 percent, thanks to the extraordinary business-friendly environment in Jianggan," she said after accepting the award.
Jianggan always adheres to the strategy of "vitalizing the district with strong talents", and by creating better business environment, it has been able to attract high-end talents at home and abroad.
Jianggan district's International Talent Week highlights an integrated system for talents service. The eight major activities range from education about China's national condition, entrepreneurial innovation and incorporate online resources, like capital and technology. Overall, the aim is to build a comprehensive model of innovative development in the Yangtze River Delta region with global appeal.
April 27, 2021

April 23, 2021

April 19, 2021
March 11, 2021