Quick as a flash: Chinese teen finishes 100m sprint in 12.07 seconds, video breaks the internet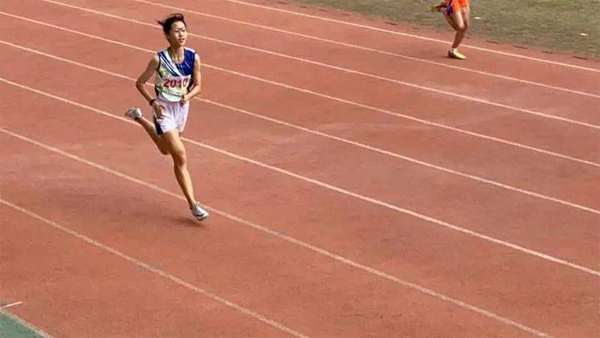 Fifteen-year-old Lu Qirui from Hangzhou, East China's Zhejiang province, has become an overnight social media sensation after a video showed her finishing a 100-meter sprint in an astonishing 12.07 seconds. These numbers are good enough to perch her on the No. 8 spot at the national-level championships. The footage is from an inter-school sports day, obviously she won the race and millions of hearts on and off the track.
Lu, who studies at the West Lake District Middle School, also ran to victory in the 200-meter sprint clocking 25.11 seconds and breaking the competition's previous record. These figures match the scores of first-tier national-level athletes and are deemed almost impossible for a teenager to achieve.
In the group events, Lu led her team to golden glory, winning a third golden medal for her school in the 4x100m relay.
"For middle school students in Hangzhou, there are many who have reached the level of second-tier national-level athletes, but reaching the first-tier is very rare," said Lv Xiaoyu, Lu's physical education teacher and coach, adding "It is very likely for Zhejiang University to accept Lu as a first-tier national-level athlete on the basis of her sports performance."
Lu was a fourth grader when she was selected in her school's track and field training team. In spite of her young age, Lu demonstrated absolute self-discipline in training, waking up at six every morning and begin training at 6:30 a.m. before going to class at 7:30 a.m. She would then resume her training from 4 p.m. to 6 p.m. after school.
"My parents have always been supportive. I like exercising and running. So it's a natural process to hold on to for me," said Lu, who described her lightning speed not as congenital but as the fruit of her persistence, hard work and effective training.
Currently in the last year of the middle school, Lu is busy juggling academics with her training sessions.
In the future, Lu plans to create new milestones on the race course while also focusing on her studies.
"I have the next few years to decide if I will go down the professional athletes' path."
November 23, 2020

September 16, 2020
October 21, 2020