The Times hails Hangzhou as 'the world's smartest city'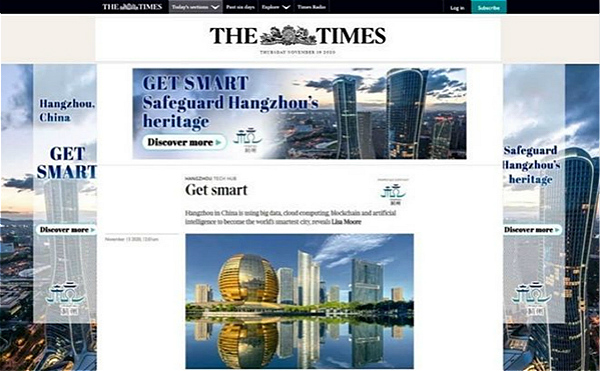 A screenshot of the website of The Times. [Photo provided to ezhejiang.gov.cn]
British daily national newspaper The Times published a full-page news story entitled "Hangzhou Tech Hub: Get Smart" on its Nov 13 print edition, website, and mobile app.

The essay hails Hangzhou as "an enterprise and innovation hub, home to many of Asia's tech giants and dozens of unicorns, and the driving force behind huge ecommerce markets".
"Hangzhou in China is using big data, cloud computing, blockchain and artificial intelligence to become the world's smartest city," the first paragraph reads.
"Hangzhou's progressive digital ecosphere has acted as a catalyst for local companies, which have developed applications such as facial recognition technology, intelligent robots and wearable security. In fact, the city's businesses and their technologies are the vanguard of global innovation, from the autonomous driving startup to the gaming firm generating tens of billions of dollars a year from PC and online games, music streaming and online education products," reads another paragraph.
The essay mentions numerous digital innovations made in Hangzhou, capital of East China's Zhejiang province, including the Hangzhou-based Alibaba, the world's largest online commerce company, which "has reshaped Chinese life", online platform "City Brain", which "carries out real-time analysis and management of the whole city", and WeChat mini-program Hangzhou Digital Tourism, which"is being used to bring the region's heritage to life while preserving its integrity".
November 23, 2020

September 16, 2020
October 21, 2020