Hangzhou Marathon sets off with 10,000 competitors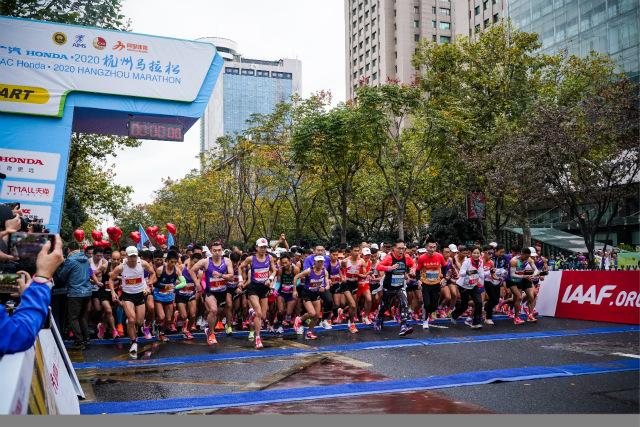 The GAC Honda 2020 Hangzhou Marathon kicks off at 7:30 am on Nov 22 at Wulin Square in downtown Hangzhou, capital of East China's Zhejiang province. [Photo provided to chinadaily.com.cn]
GAC Honda 2020 Hangzhou Marathon kicked off at 7:30 am on Nov 22 at Wulin Square in downtown Hangzhou, capital of East China's Zhejiang province, attracting some 10,000 competitors.
Both the full and half marathons routes passed West Lake and the Qiantang River, the city's most beautiful scenic spots.
Su Guoxiong won the men's full marathon title in two hours 13 minutes and 24 seconds. The women's crown for full marathon was won by Wang Min who finished in two hours 38 minutes and 19 seconds.
"I'm really happy to win the championship and record my own personal best in the race," said Su, who also broke Chinese runners' record for this particular marathon.
Due to the COVID-19 pandemic, this year's event only featured a full marathon and a half-marathon, with 7,000 and 3,000 participants respectively, said Zhang Yadong, deputy director of the Zhejiang Sports Bureau, adding that the participants were mainly domestic runners and were required to provide negative nucleic acid test results before the competition.
The race also attracted a string of sports celebrities and medical staff fighting the COVID-19 pandemic, including world junior badminton champion Wang Lin, world martial arts championship Mao Yaqi and world marathon champion Chen Xiezhong as well as Wang Guobin and Ma Qingna, who were the medical workers with the First Affiliated Hospital of Zhejiang University's School of Medicine and had gone to Wuhan to help the city fight the COVID­19 pandemic.
"Since the great spirit of battling the COVID-19 epidemic has the same character as sportsmanship we organized this special racing group this year," said Chen.
First launched in 1987, the Hangzhou marathon event, which was classified by International Association of Athletics Federations (IAAF) as a Gold Label Road Race in 2019, is one of the most time-honored marathons in China.