Experts say 'fake meat' may not cook up a storm in China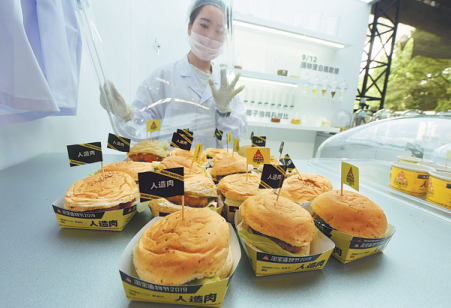 A staff member displays burgers made from fake meat in Hangzhou during a shopping festival last year. LONG WEI/FOR CHINA DAILY
Higher profile
In May, Nestle, the Swiss food and drink giant, announced plans to build a faux-meat factory in Tianjin, the company's first in Asia.
In June, Yum China-which owns the rights to operate KFC, Pizza Hut and Taco Bell in the country-announced it would begin serving the Beyond Burger, a Beyond Meat product, for a limited period.
In late August, a company called Except Meat opened China's first restaurant dedicated to dishes made from plant-based meats in Beijing.
These companies have long been eyeing the Chinese market.
The country is the world's largest meat consumer, and demand for pork and beef is rising. China is also the world's largest pork producer and its high level of meat production has resulted in a large carbon footprint.
Plant-based meat-lauded as a low-cholesterol, healthy foodstuff that is less environmentally damaging than the traditional industry-has won plaudits in the West. Technological advances have allowed the alternatives to compete with meat in terms of flavor and texture.
As more people in China's burgeoning middle class pay closer attention to personal health and the environment, domestic and overseas food tech companies see the market as potentially profitable.
These companies are hoping to attract more consumers by offering meat alternatives. The question is: Will Chinese consumers buy them?
In September, a plant-based startup in Beijing called Zhenmeat launched a trial of products at a chain hotpot restaurant. The items included plant-based meatballs and fake deep-fried pork strips, the most popular ingredients of traditional hotpot.
While people were lining up at lunchtime to select ingredients for their hotpot broth, the startup's staff members introduced their products, telling customers that the plant-based foods were high in protein and low in fat and cholesterol.
Some people were intrigued enough to try the products.
"The deep-fried pork strip tasted like real pork," said one customer."I think this could be a good alternative for people who want to keep fit or lose weight, but I won't buy it because I would rather go for real meat."
According to an April survey by Southern Metropolis Daily in Guangdong province, 52.88 percent of 2,065 respondents said they were unwilling to try fake meat, while 33.3 percent said they had tried some products. Only 8.3 percent said fake meat tasted good.
Ling Chen, a 28-year-old media worker in Beijing, has tried several fake protein products, including sausages made by Whole Perfect Food, a domestic vegetarian food producer. She has also tried Starbucks' fake beef lasagna, fake chicken roll, and faux meat and mushroom rice bowl, plus a fake meatball pizza from Papa John's.
Ling loves soybean products and also often opts for vegetarian dishes because she finds the amount of meat in modern diets is too high.
Curiosity prompted her to try meat alternatives."I just wanted to know to what extent artificial meat can provide the taste and texture of real meat," she said.
After trying the pizza, she said she had no intention of buying it again."The taste is very average. It's just not delicious. It tastes like inferior starchy meatballs," she said.
She added that the Starbucks'lasagna and rice dishes tasted good, but they were too expensive at 69 yuan and 59 yuan ($10 and $8.60) respectively.
The cost was the main reason she would not consider them as daily food choices.
Traditional Chinese cuisine has a long history of using soybeans to mimic meat dishes. Vegetarian "chicken", "duck" and "goose" are among the most common tofu products favored by consumers for health or religious reasons.
They are also very cheap. For example, a 250-gram bag of vegetarian meat costs 11.80 yuan on Alibaba's Freshippo supermarket, compared with 21.10 yuan for the same amount of fresh pork tenderloin or 66.30 yuan for Beyond Meat's plant-based burger patties.
April 30, 2021

April 19, 2021
March 11, 2021