Starbucks opens café staffed by hearing-impaired baristas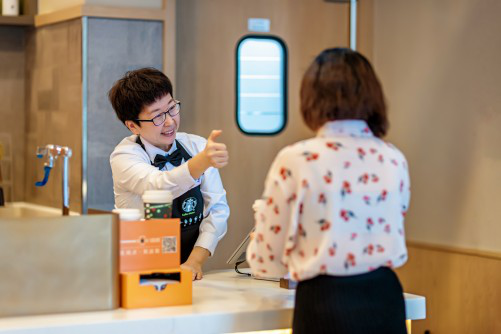 A hearing-impaired barista communicates with a customer in sign language at the first hearing-impaired Starbucks store in Hangzhou, capital of East China's Zhejiang province. [Photo/ori.hangzhou.com.cn]
Starbucks opened a hearing-impaired café in Binjiang district, Hangzhou, capital of East China's Zhejiang province, on Dec 3, the International Day of Disabled Persons. It is the third café of its kind in China and the first in Hangzhou.
The café is staffed by employees who are partially or fully deaf and able to communicate in sign language.
"It's important to help people with disabilities to get ahead," said Tang Weiwei, manager of the café.
Tang has been working at Starbucks for five years and used to manage another Starbucks branch in Hangzhou before she voluntarily came to the hearing-impaired store.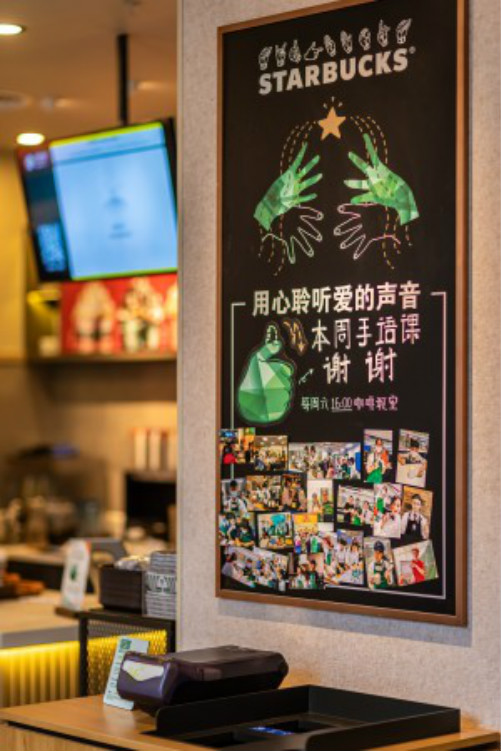 A billboard teaching some simple sign language is seen at the hearing-impaired Starbucks store in Hangzhou, capital of East China's Zhejiang province. [Photo/ori.hangzhou.com.cn]
"In the beginning, they (people with disabilities) taught me sign language and I taught them how to make coffee," Tang said, "coffee and sign language are what bring the team together."
Tang noted that the most important thing in getting along with hearing-impaired individuals is to be patient and caring.
The store has many sign language labels and barrier-free facilities. A billboard teaching simple sign language such as how to say "thank you" and "coffee" is featured prominently.
April 30, 2021

April 19, 2021
March 11, 2021