Stewed duck in soy sauce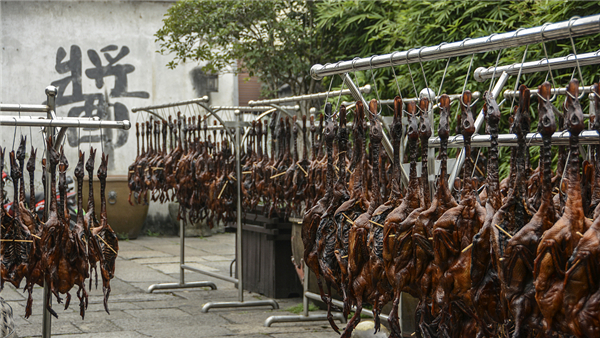 Ducks stewed in soy sauce are totally aired before being served to foodies. [Photo/CFP]
The must-try dish for Hangzhou residents in chilly winter days is stewed duck in soy sauce, which usually comes to market in December and pleases locals' taste buds with distinctive flavors.
It's tricky to select a perfect duck as it must be not too old, not too young, and has tight meat to bring foodies' the best flavors. So sheldrake, a native species which has laid eggs, is a popular choice.
It usually takes half a day to dry the cleaned ducks in the shade, with wings being tied together to the back to drain water thoroughly.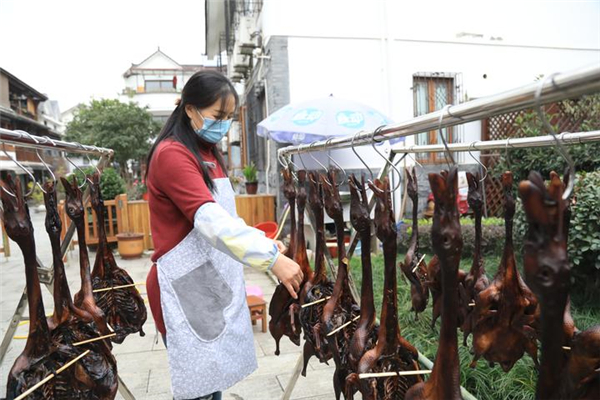 A local resident checks her homemade ducks. [Photo/zjol.com.cn]
Green Chinese onion, ginger, rice wine, chilli pepper, aniseed and cinnamon are routine seasonings for the dish. But the secret to make the best duck lies in white granulated sugar and a local brand soy sauce named Huyang.
"I usually use 50 bags of Huyang soy sauce to stew 40 ducks, and the amount of other seasonings is measured by my experience," said a master chef surnamed Zhen.
She will then let the ducks cool and continue to soak them in soy sauce for another 24 to 30 hours. The final step is airing - let to nature to bring out the best flavor.