Hangzhou launches new interface of City Brain system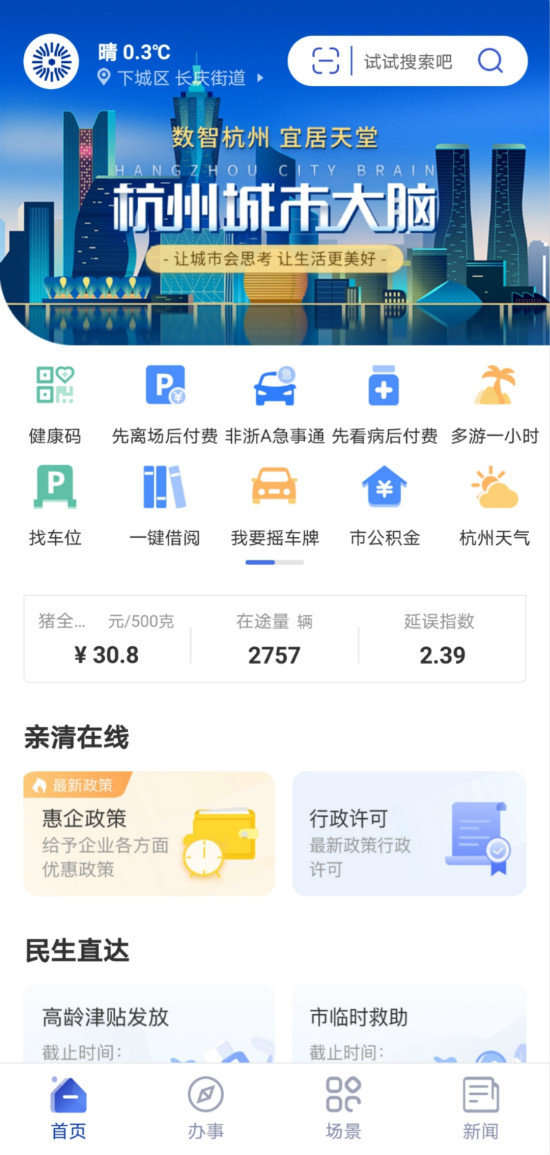 New interface of the Hangzhou City Brain system. [Photo/hangzhou.zjol.com.cn]
A new interface of the Hangzhou City Brain system was launched at a meeting reviewing the development of the system over the past year held on Jan 8.
The new platform integrates the health code, Qinqing Online, and Minsheng systems, providing services for users under 38 scenarios. Local residents will have access to more convenience when it comes to parking, hospital, travel, and living services.
To date, 3.07 million users registered at the system and 11.03 million residents have enjoyed benefits offered by the system.
The City Brain system was first introduced in 2018 to deal with traffic congestion in Hangzhou. Since then, more functions have been developed to help solve more problems.
Following the outbreak of the COVID-19 pandemic, Hangzhou developed the health code system, which was subsequently promoted nationwide.
Other systems like Qinqing Online, which builds a direct bridge between companies and the government, were also introduced as part of the City Brain system.
At the meeting, representatives from Binjiang Internet Town shared how they made use of the City Brain system to alleviate traffic congestion in the town, which is home to more than 4,000 companies and 91,000 employees.
Hangzhou's City Brain is a smart city platform aimed at improving urban management through the use of big data, cloud computing, and artificial intelligence, among other cutting-edge technologies.
January 15, 2021

January 13, 2021

January 6, 2021
December 31, 2020