Hangzhou a popular hub for overseas returnees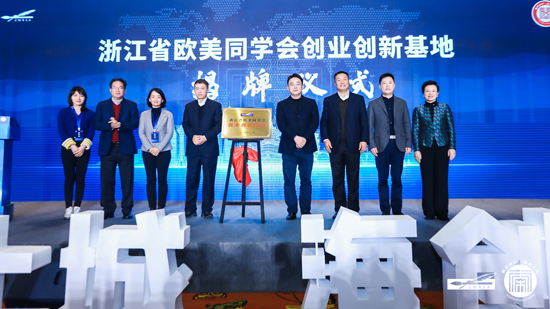 Shangcheng district in Hangzhou, Zhejiang province unveils an entrepreneurship and innovation center for the Western Returned Scholars Association of Zhejiang on Dec 9, 2020. [Photo/hangzhou.com.cn]
Hangzhou surpassed Guangzhou in attractiveness to overseas returnees in 2020, ranking fourth among domestic cities, according to a recent report published by Zhilian Recruitment, a major recruitment website in China.
The report said Hangzhou attracted 5.1 percent of total overseas returnees, following Beijing, Shanghai, and Shenzhen, which have respectively attracted 16.4 percent, 15.8 percent, and 8.1 percent of returnees.
Returnees aged between 25 and 34 accounted for the largest group of 64.6 percent and those aged between 16 and 24 increased 4.5 percentage points over 2019 to 27.9 percent in 2020.
The report also said that 72.4 percent of returnees have obtained a master's degree, 1.7 percentage points higher than that in 2019. Returnees obtaining a bachelor's degree accounted for 25.9 percent, declining 1.9 percentage points. And those obtaining a doctorate accounted for 1.7 percent, almost the same as in 2019.
Returnees preferred to work in industries such as banking, the internet, and culture and entertainment, and 9.5 percent of returnees have submitted resumes in the financial industry.
The report said that due to the COVID-19 pandemic and changes in international relations, more people returned to work in China in 2020. They cared most about policies for overseas talent and the job market in China.
January 15, 2021

January 13, 2021

January 6, 2021
December 31, 2020