Residents increasingly satisfied about local ecology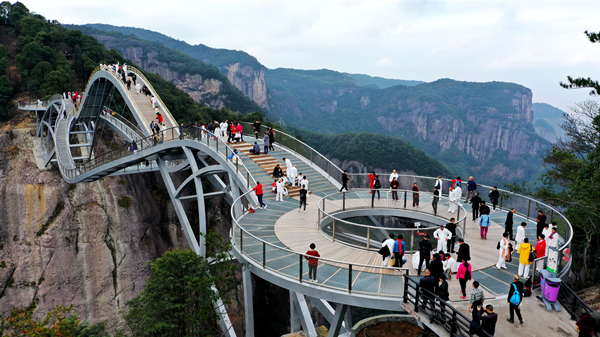 People visit Shenxianju Scenic Area in Taizhou's Xianju county, Zhejiang province on Dec 11, 2020. [Photo/IC]
East China's Zhejiang province scored 84.68 points in the 2020 annual survey on the general public's satisfaction level about the province's ecological environment, up from 84.09 points in the 2019 survey.
According to the Zhejiang Provincial Department of Ecology and Environment, Zhejiang's score in the survey has been continuously rising over the past nine years. The satisfaction level was 56.19 points in 2011 and started to exceed 70 points in 2016.
Among the 11 Zhejiang cities at and above prefecture level, the top three performers in the 2020 survey were Quzhou (88.96 points), Lishui (88.52 points), and Huzhou (87.02 points).
When asked about their sense of the province's improvement in environment, 42.6 percent of the respondents chose the option of "the improvement is significant".
The public's satisfaction about air quality, water environment, and drinking-water quality were 87.62 points, 83.81 points, and 88.26 points in 2020 respectively, up 2.93 points, 2.43 points, and 2.16 points from the previous year.
January 26, 2021

January 22, 2021

January 13, 2021
December 31, 2020