Year-ender: Hangzhou's vibrant market in 2020
1. Hangzhou had 218 listed companies in 2020, ranking fourth among domestic cities. HikVision, a video security leader, topped the list with a market value of 544.6 billion yuan ($84 billion).
2. A total of 1.3 million private business owners paid taxes in Hangzhou in 2020 and they are expected to benefit from an additional cut of 60 billion yuan in taxes and administrative fees due to preferential policies.
3. Tech giant Alibaba unveiled a smart manufacturing and digital solutions factory in September 2020 and has carried out pilot cooperation with more than 200 small and medium-sized enterprises on a digitalized end-to-end manufacturing supply chain that enables fully-customized and demand-driven production.
4. Over 100 local enterprises were designated demonstrators of the New Consumption concept on Sept 18, 2020, as they have vitalized local industries, expanded domestic needs, and stimulated economic growth amid the COVID-19 pandemic.
5. Hangzhou developed 133 new cross-border e-commerce brands in 2020 and 139 industrial leaders saw annual turnover of over $10 million.
6. Hangzhou always prioritizes food security and set up 198 food markets rated "secure" by the government in 2020.
7. A total of 708 local companies attended the online edition of the China Import and Export Fair, or Canton Fair, in October 2020 to seek business opportunities with international merchants.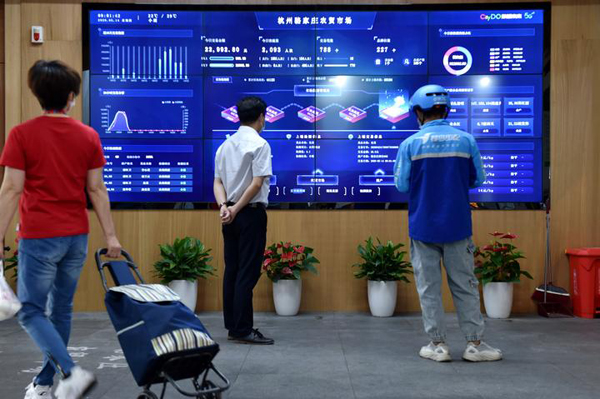 People examine information displayed at a food market powered by 5G technology in Hangzhou. [Photo/zjol.com.cn]
February 9, 2021

January 26, 2021

January 13, 2021
February 4, 2021