A recommendation of traditional Hangzhou food restaurants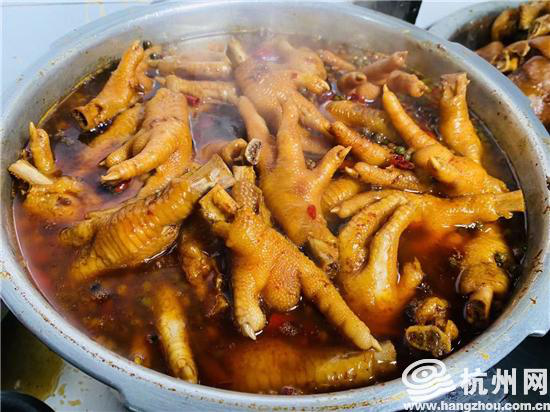 A typical dish of chicken feet in Hangzhou, capital of East China's Zhejiang province. [Photo/ori.hangzhou.com.cn]
The Hangzhou commerce authorities recently selected 20 local restaurants that represent the most typical flavors of traditional Hangzhou food during a contest.
Nearly 1,000 restaurants from Hangzhou's registered to attend the contest, which lasted over two months.
The review committee selected these restaurants based on online votes and on-the-spot evaluations. All the restaurants have been operating for at least five years.
Here is the list of the 20 selected Hangzhou restaurants:
1. Xiao Wan Zhan or Little Bowl (小碗盏)
Address: No 829, Jiangcheng Road, Shangcheng district
2. Ye Ma (叶马)
Address: Near the parking lot of the Pagoda of Six Harmonies at No 92, Zhejiang Road, Shangcheng district
3. Mi's Restaurant (米家小馆)
Address: No 68, Xinhua Road, Xiacheng district
4. Shang Ming Tang Fish Head (上名堂鱼头好吃)
Address: No 30, Stadium Road, Xiacheng district
5. Shen Nong Famous Kitchen (神农名灶)
Address: No 266, Kaixuan Road, Jianggan district
6. Ying Ying Noodle Restaurant (神农名灶)
Address: No 636, Qianchao Road, Jianggan district
7. Fatty Baked Roll Restaurant (胖子烧饼)
Address: No 233-8, Wensan Road, Xihu district
8. Fan Lao Tou Rice Noodle Casserole (凡老头米线砂锅)
Address: No 1 Building, West Gudang Area, intersection of Tianmushan Road and Yile Road, Xihu district
9. Propitious Time Home Food (良辰家宴)
Address: No 407, South Hushu Road, Gongshu district
10. He Ji San Xian Restaurant (禾记三鲜汤菜馆)
Address: No 19, Deyuan Road, Daguan Community, Gongshu district
April 30, 2021

April 19, 2021
March 11, 2021