Heritage sites in focus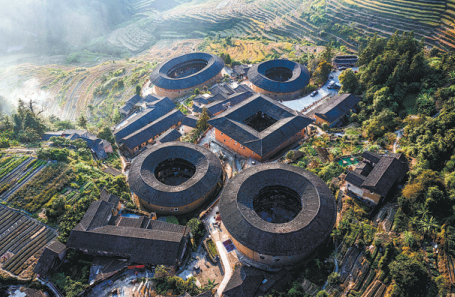 Hakka people's earthen residential buildings in Fujian province and West Lake in Hangzhou, Zhejiang province, are two of the UNESCO World Heritage sites featured in the reality show The Shape of Culture. YANG ENUO/LONG WEI/FOR CHINA DAILY
Shan Jixiang worked as director of the Palace Museum in Beijing for over seven years before his retirement in 2019. Before that post, he had served as director of the National Cultural Heritage Administration, on par with a vice-minister.
During his tenure at the museum, or the Forbidden City, he frequently delivered public lectures all over the country, sharing his experience, with humor, of managing one of the country's most important cultural venues. Shan actively appeared in media to answer questions or confront controversy.
Shan is even recognized on the street where people have taken photos with him, which is uncommon for museum officials in the country.
Now, the 67-year-old has a new platform to promote cultural heritage.
The Shape of Culture, a 12-episode reality show that premiered on Zhejiang TV on Sunday, presents UNESCO World Heritage sites in China. The show is also on streaming platforms Tencent, iQiyi and Bilibili.
China has inscribed 55 sites on the UNESCO World Heritage list, tied with Italy in first place as the country with the most sites.
In China, more than 300 million visits were recorded at the sites in 2019, according to the National Cultural Heritage Administration.
Shan says some people visit such heritage sites only to "check mark" them as visited. "But why is the value outstanding? How do these sites benefit a local community? These stories need to be told."
In each episode of the show, Shan leads celebrities-actors, actresses, comedians and singers-to explore a World Heritage site, joined by other experts and local people.