Video on seal-cutting wins first prize
The short video My Chinese Heart. [Video provided to ehangzhou.gov.cn]
My Chinese Heart, a short video created by the Social Affairs Committee of the Xiling Seal Engraver's Society, recently won first prize of the @Beautiful Zhejiang Global Short Video Contest, local media outlets reported.
The video follows a group of young Hong Kong students, who are enthusiastic about Chinese culture and are also followers of the Xiling Seal Engraver's Society. In the video, the students embarked on a study trip to Hangzhou, where they visited the time-honored engraving society, tried their hands at the ancient seal-cutting technique, and got a closer look at the profound culture.
The contest, which took into consideration the entries' themes, main plots, and shooting styles, awarded a total of five first-prize, 10 second-prize, 15 third-prize, and several honorable mention winners.
It was organized by the Information Office of Zhejiang Provincial Government and Zhejiang International Channel (ZTV-World) of the Zhejiang Radio and TV Group.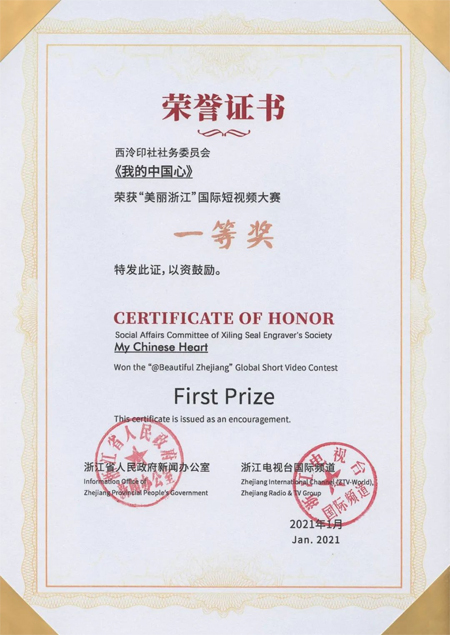 My Chinese Heart wins first prize of the @Beautiful Zhejiang Global Short Video Contest. [Photo provided to ehangzhou.gov.cn]