Hangzhou residents show strong consumption during Spring Festival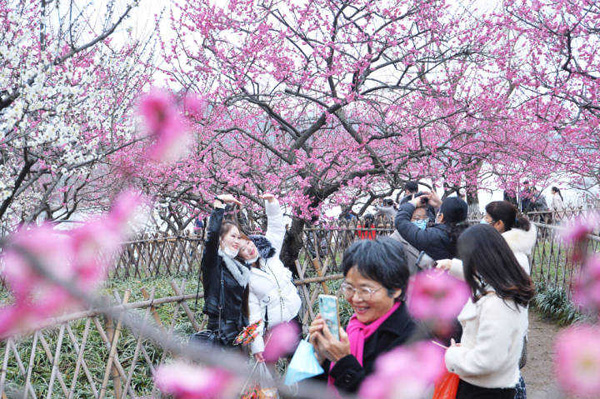 A park in Hangzhou is crowded with visitors during the Spring Festival holiday from Feb 11 to 17. [Photo/zjol.com.cn]
Statistics from the Hangzhou municipal bureau of commerce show that 56 model units, including shopping malls, supermarkets, car beauty, catering, and accommodation, generated a total of 1.43 billion yuan ($222 million) in sales revenue from Feb 10 to 16, growing 142.1 percent year-on-year.
The sales revenue of 13 shopping malls and 13 supermarkets in Hangzhou reached 814 million and 529 million yuan, up 554.7 and 16.5 percent, respectively.
Vegetables, meat, poultry, eggs, aquatic products, and bean products were in adequate supply and their prices remained stable.
Many restaurants offered "half-done menus" during the Spring Festival holiday, which could be bought via a phone call or WeChat mini-program, or by going to the restaurant in-person.
The "staycation" trend this year turned rural homestays, ancient towns, and themed streets in Hangzhou into top tourist destinations. Statistics show that about 1.4 million people visited 11 commercial streets in Hangzhou, generating 135 million yuan in sales revenue. The nighttime economy at 56 units also flourished, generating 776 million yuan in sales revenue, up 210.9 percent year-on-year.
In addition, cinemas across Hangzhou received a total of 2.47 million viewers from Feb 12 to 16, resulting in a gross box office of 127 million yuan.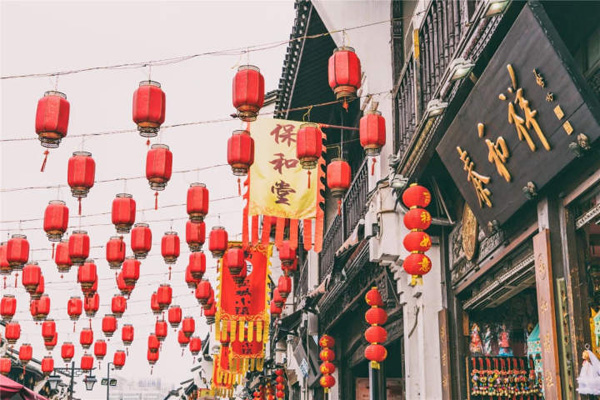 An ancient street in Hangzhou is decorated for Spring Festival. [Photo/zjol.com.cn]
April 30, 2021

April 19, 2021
March 11, 2021