Russian poet wears new qipao for Spring Festival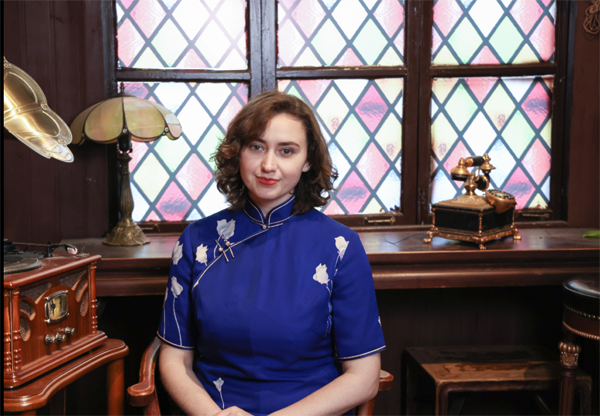 Podareva Anastasia and her new qipao. [Photo/dskb.cn]
Podareva Anastasia, a Russian poet living in Hangzhou, recently got her first tailored qipao, a body-hugging dress, for Spring Festival, local media reported.
"I've bought many traditional Chinese dresses before but none of them fit very well," Anastasia said. She couldn't wait to try out her new attire despite the cold weather in Hangzhou.
Anastasia's qipao was designed and tailored at Yuezhiqi Studio, a small shop that opened on a quiet corner of Southern Song Imperial Street in 2013.
Qian Zhongshu, owner of the studio and an expert in redesigning and embellishing broken jewels, recommended to Anastasia a Klein-blue fabric, a special soft cloth known as zhengjuan that can be made for a slim cut. Two experienced tailors helped the poet measure her size and detail her designs.
Anastasia was satisfied with her new dress and even wrote a Chinese poem titled Eyes of Spring to express her excitement.