A unique way to celebrate Dragon Head-Raising Day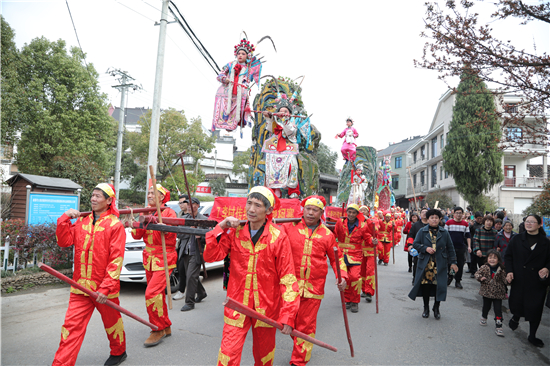 Taiqiaoge is a parade of specially-designed floats. [Photo/hangzhou.com.cn]
A special parade held in Licun village, Jiande city on March 13 to welcome Dragon Head-Raising Day attracted many anticipated villagers and tourists, local media outlets reported.
What many were looking forward to was taigeqiao, a tradition that has been observed for centuries to mark the festival. On this day, a parade of eight specially-designed floats, which were themed on eight renowned folk plays, carried children dressed in costumes across the village.
Local residents also rigged out in traditional clothes and celebrated the festivities to the rhythm of drumbeats and folk music.
It is said that this tradition originated from ancient times, when local residents wanted to express their gratitude to the Baishan Emperor, a legendary figure, by inviting him to watch folk plays on this day.
The tradition is now a local intangible cultural heritage.
Dragon Head-Raising Day takes place on the second day of the second lunar month, which fell on March 14 this year. On this occasion, people honor the Chinese dragon and pray for good weather in spring, the most important time for plowing fields.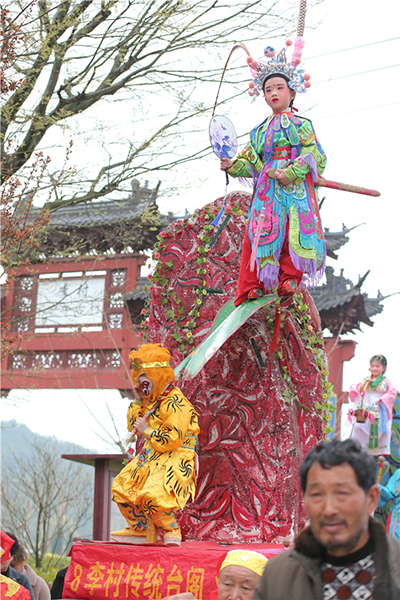 Children in make-up and traditional costumes stand on a float featuring a folk play on March 13. [Photo/hangzhou.com.cn]