Lotus Cake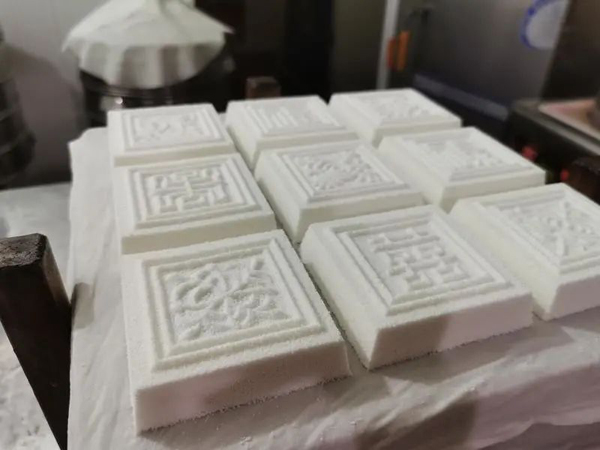 Lotus Cakes. [Photo/dskb.cn]
Lotus Cake, a square-shaped cake with lotus flowers imprinted on it, is a traditional snack in Hangzhou that has accompanied generations of locals as they grew up. The cake is now an intangible cultural heritage item of Hangzhou.
Especially designed for children decades ago, the cake is popular for its soft texture, additive free ingredients, and reasonable price. There are still a few shops selling the Lotus Cake nowadays and they haven't raised the price for decades.
The way to make a traditional Lotus Cake is quite time consuming. The chef needs to first soak rice in water at midnight and then get prepared for rice washing, grinding and sieving flour, pressing mold, as well as steaming and drying the cakes the next day.
Traditional lotus cakes are purely white and can bring out an authentic glutinous rice flavor. Nowadays, with the upgrading of people's appetites, the cake varies with different colors and flavors, incorporating vegetables and grains like carrots, spinach, pumpkins, tomatoes, black rice, millet, red beans, as well as brown rice.
Patterns molded on the top of the cakes have also evolved from the traditional lotus flower to a wide range of patterns like pomegranates, peaches, locks, willow leaves, and auspicious Chinese characters.
April 27, 2021

April 23, 2021

April 19, 2021
March 11, 2021