Hangzhou, German teenagers share life inspirations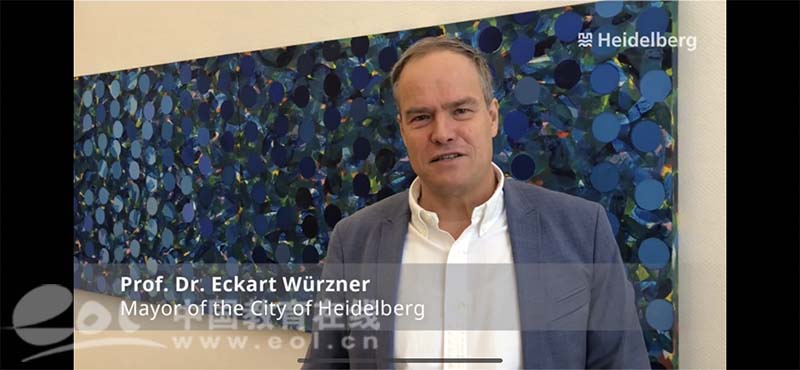 Eckart Würzner, mayor of Heidelberg, speaks at the online video discussion on March 19. [Photo/eol.cn]
Teenagers from Hangzhou in China and Heidelberg in Germany held an online video discussion on March 19, sharing ideas on the COVID-19 pandemic and on globalization.
The internet was the most frequent word mentioned by teenagers from the two cities as they discussed their lives during the sudden outbreak of the COVID-19 pandemic last year.
"The pandemic has changed our way of social contact and many originally offline activities went online. We could not order food and had to dine at school canteens. We also need to present our health codes when going out to public places," said a college student from Hangzhou.
Students from Heidelberg thought that attending online courses at home was more challenging than attending regular classes. They said that online classes required stricter self-discipline and that they would sometimes feel lonely being unable to interact with friends. A student named Lynn said that she would go jogging to balance the pressure between studying and life, while another student named Isabell said that she will go hiking or go shopping when the pandemic declines.
Teenagers from the two cities agreed on developing in an all-round way when talking about how to embrace globalization. They said that they should broaden their horizons, keep an open mind, and grasp the opportunities brought by globalization.
Hangzhou and Heidelberg established friendly ties in 2016. Teenagers from the two cities have conducted several online and offline exchanges.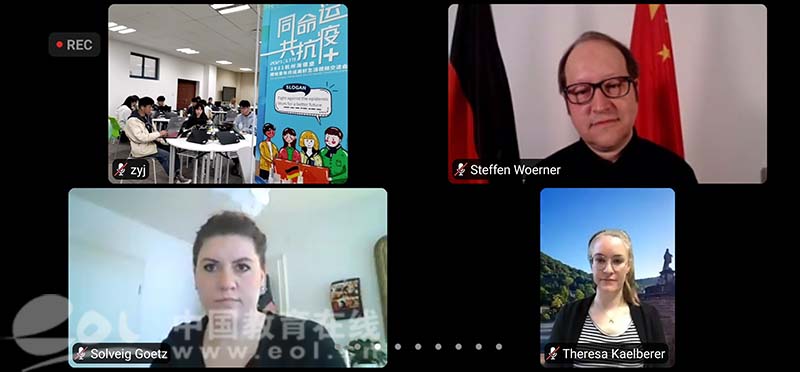 Teenagers from Hangzhou in China and Heidelberg in Germany hold an online video discussion on March 19. [Photo/eol.cn]
April 14, 2021

March 31, 2021

March 26, 2021
March 11, 2021