Liangzhu archaeological park uses 3D printing to restore relics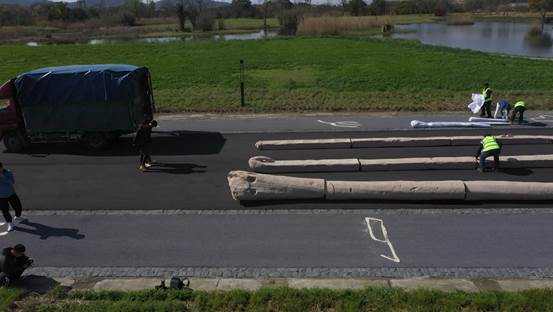 People work on 3D-printed wooden sticks on March 22. [Photo/zjol.com.cn]
The Archaeological Ruins of Liangzhu City in Hangzhou, Zhejiang province recently used 3D printing technology to restore six large ancient wooden sticks, local media outlets reported.
Unearthed in the ancient waterway of Zhongjiagang Port in Liangzhu Park, the sticks are different in length, with the longest being 17.2 meters, and their usage still needs to be verified.
The sticks, which were modeled upon 3D data collected during excavation, have clear textural features and can prevent the cultural relics from damage when undergoing molding and demolding.
Experts are currently focusing on more detailed work related to the 3D-printed sticks to find out whether they are suitable for further molding and coloring. If all goes well, the sticks are expected to be exhibited in the ancient waterway of Zhongjiagang Port in July.
The original relics of the sticks are currently preserved at the Zhejiang Institute of Cultural Relics and Archaeology for years of dehydration.
"This is our first time using 3D printing technology for relic restoration. Visitors will be able to look closely at the sticks and imagine what the palace would have looked like 5,000 years ago," said Sun Haibo, an official at the park.
June 12, 2021

June 7, 2021

May 27, 2021
March 11, 2021