West Lake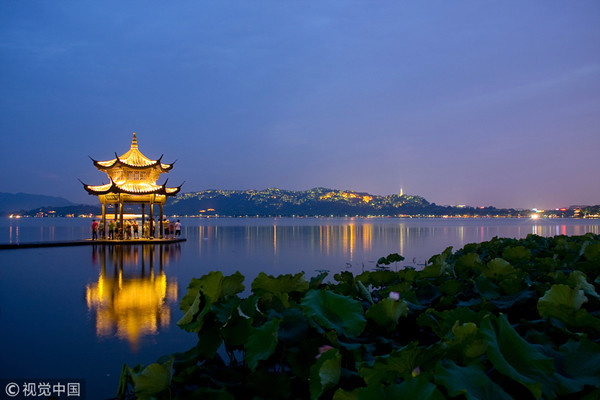 West Lake at twilight [Photo/VCG]
West Lake (Xihu), one of the most famed tourist attraction in Hangzhou, Zhejiang province, is well known both for its picturesque landscape and for cultural heritage surviving yet illustrating the past dynasties.
Depending on the season, some of the highlights one must visit are: spring dawn at the Su Causeway, breeze-ruffled lotuses at Quyuan Garden, lingering snow on Broken Bridge which can be enjoyed all year round, Leifeng Pagoda at dusk and Three Pools Mirror the Moon, which, as the name suggests, should be visited at sunset or on moonlit nights.
Some places can be visited at any times regardless of seasonal or weather whims, including Orioles Singing in the Willows, Twin Peaks Piercing the Clouds, and Evening Bell Ringing on Nanping Hill.
They are all linked by tree-lined boulevards, causeways, or hiker-friendly trails so they can be covered on foot or a free public bike. And, if the adventure proves to be a bit exhausting, a comfortable electric-cart or a cruise boat can come in handy.
For anyone who would like to stay for more than a week, there are many more sites to see: Precious Stone Hill Floating in Rosy Cloud, Heavenly Wind over Wushan Hill, Clouds Scurrying over Jade Emperor Hill, Dreaming of Tiger Spring at Hupao Valley, Nine Creek Meandering through a Misty Forest, Enjoying Tea at Dragon Well, Yellow Dragon Cave Dressed in Green, and Ruan Gong islet Submerged in Greenery.
Then there is Hangzhou's best summer resort and hiking trail, a bamboo-lined path at Yunqi, with bamboo forests dissected by zigzagging paths and studded with pavilions, pagodas, giant trees and rare flowers.
Tea enthusiasts will surely like Dragon Well which serves China's most authentic, palatable, impeccably delicious and haunting green tea, thanks to its magical spring.
Or, for birdwatchers, there is the Ruan Gong Islet Submerged in Greenery, one of three islands in West Lake, which is a haven for both birds and urbanites.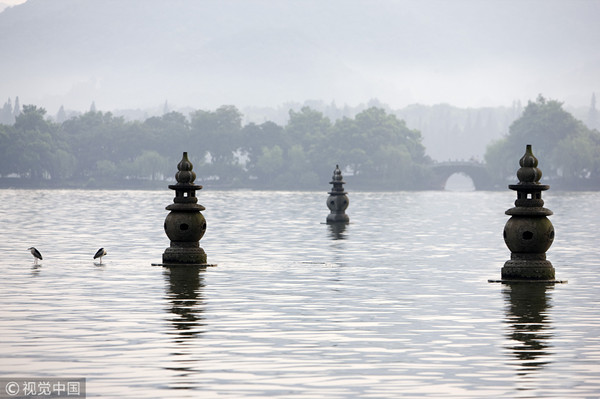 The gourd-shaped stone pagodas on the West Lake, Zhejiang province [Photo/VCG]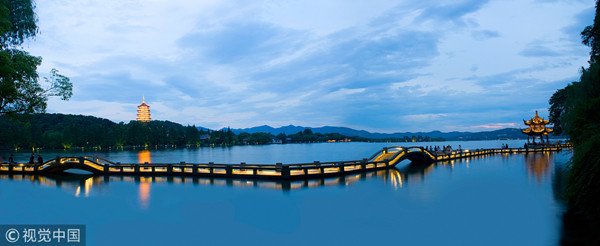 A zigzag bridge on the West Lake, Hangzhou. [Photo/VCG]
Scenic spot level: AAAAA
Ideal sightseeing season: March to October
Opening hours: Different spots open at different times.
Ticket price: Free for entrance.
Address: Downtown Hangzhou, Zhejiang province
Note:

If you want to learn more about silk and tea, there are the China Silk Museum and Hangzhou National Tea Museum with a tea exhibition and interactive tea ceremony.