Green rice dumplings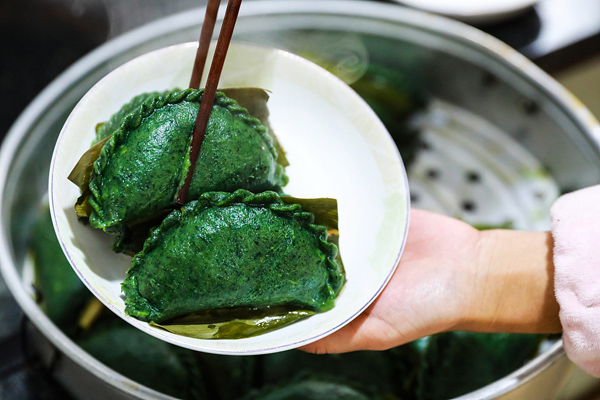 Qingmingguo, also known as green rice dumplings. [Photo/CFP]
Qingmingguo, also known as green rice dumplings, is a snack commonly eaten in Hangzhou during Tomb-Sweeping Day, which usually falls in early April.
Unlike green rice balls, which are popular in other cities in the Yangtze River Delta region, qingmingguo are more like dumplings shaped like a crescent moon.
Wormwood, glutinous rice, and polished round-grained rice are major ingredients of the dumpling skin. Wormwood will first be boiled and juiced, then added to the powder for the two kinds of rice and mixed to make dough.
After dividing the dough, each of them will be filled with sweet or salt stuffing, such as red bean paste and diced bamboo shoots, dried bean curd and pork.
The finishing touch is dusting it with some glutinous rice powder, and after eight minutes of steaming, the snack is ready to please the appetite.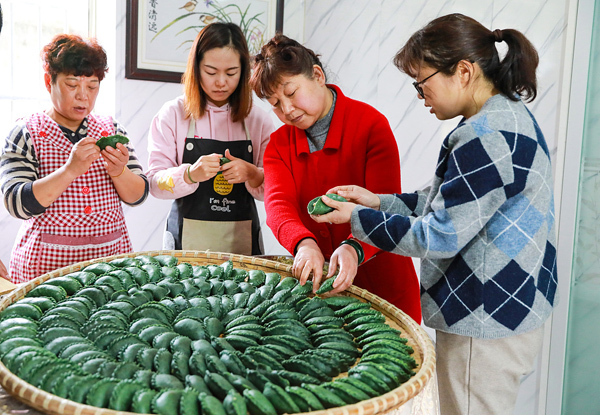 Residents of Tingkou village in Lin'an district, Hangzhou make green rice dumplings on March 28. [Photo/CFP]
March 31, 2021

March 26, 2021
March 11, 2021