Intl students experience Longjing tea culture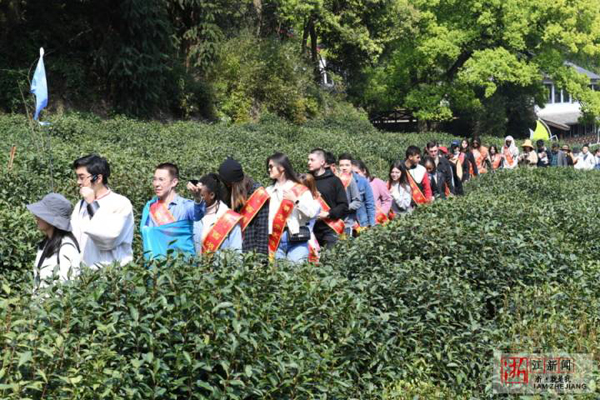 A group of 27 overseas students from Zhejiang University of Finance and Economics, as well as Zhejiang Technical Institute of Economics takes a tea culture tour in Hangzhou on April 10. [Photo/zjol.com.cn]
A group of 27 overseas students from Zhejiang University of Finance and Economics, as well as Zhejiang Technical Institute of Economics immersed themselves in a tea culture tour in Hangzhou on April 10, Zhejiang Daily reported.
The tour was offered by Lions Westlake Longjing Tea Co, a renowned tea brand that has large areas of high-quality plantations for Longjing tea, also known as Dragon Well tea, a variety of pan-roasted green tea in China.
Guided by masters from the company, students learned about the 1,200-year history behind tea plantations, as well as the suitable growing environment, climate, and soil conditions for the tender plants.
The students also tried their hands at frying some tea, a traditional method for Longjing tea processing, and paid tribute to masters who have carried forward local tea making techniques for centuries.
Few teas have occupied such a special place in the collective hearts and minds of Chinese people as the Longjing variety. The best tea leaves are sourced from a small village near the West Lake in Hangzhou and are better before Tomb Sweeping Festival, which usually falls in early April. To preserve the freshness and flavor the tea leaves, it is recommended to roast or steam the leaves immediately after picking to halt the oxidation that naturally occurs.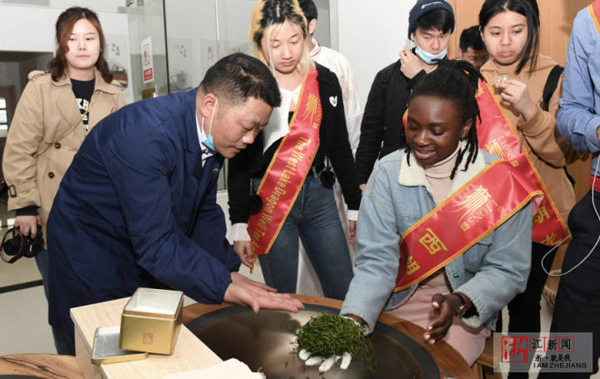 An international student tries her hand at frying Longjing tea. [Photo/zjol.com.cn]
April 30, 2021

April 19, 2021
March 11, 2021