China Digital Reading Conference opens in Hangzhou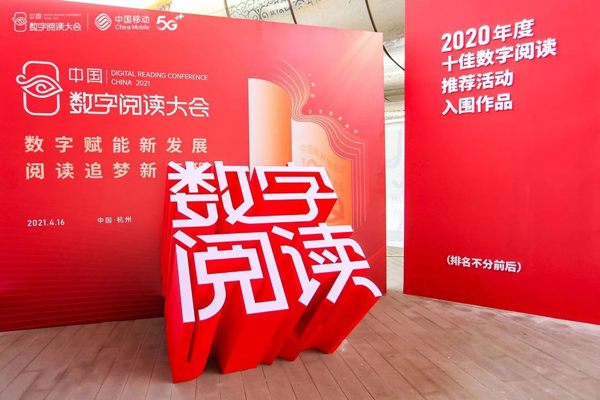 The seventh China Digital Reading Conference opens in Hangzhou, East China's Zhejiang province on April 16. [Photo/WeChat account: hzfbwx]
The seventh China Digital Reading Conference opened in Hangzhou, East China's Zhejiang province on April 16, local media outlets reported.
According to an industry report released at the event, China continued to see a rise in the digital reading sector amid the COVID-19 pandemic in 2020 as the number of e-book consumers hit 494 million, with a year-on-year growth of 5.56 percent. The value of China's digital reading market reached 35.16 billion yuan ($5.39 billion), up 21.8 year-on-year.
The report also said that an increasing number of Chinese people are getting used to digital reading and that more people are willing to pay for high quality content. Among the over 20,000 people surveyed, per respondent read 9.1 e-books and listened to 6.3 audiobooks on average, both seeing a year-on-year rise of around 5 percent. However, the per capita reading of paper books stood at 6.2 publications, dropping by 2.6 from the previous year.
People of different age groups showed distinctive reading preferences. As the report indicated, people born before the 1970s preferred health and fitness books, while those born between the 1970s and 1980s liked reading books on military and warfare. Fashion books appealed to people born between the 1980s and 1990s, travel books were popular to people born between 1990 and 1995, while people born after 1995 preferred comic books.
Hangzhou, capital of East China's Zhejiang province, followed Beijing in China's top 10 cities for digital reading. Chengdu, Hefei, Nanjing, Shanghai, Shenzhen, Wuhan, Chongqing, and Xiamen were also on the list. The honor indicated trends in Hangzhou residents' habits in digital reading.
The event also revealed that the COVID-19 outbreak and the commercialization of 5G have accelerated the smart and digitalized transformation of reading. New technologies, such as artificial intelligence, virtual reality, and augmented reality, have expanded the coverage of digital reading in cloud libraries and cloud bookstores. Cloud services and the internet of things in the field of digital reading have also entered the fast track of development.
An online edition of the conference is being held from April 16 to 23.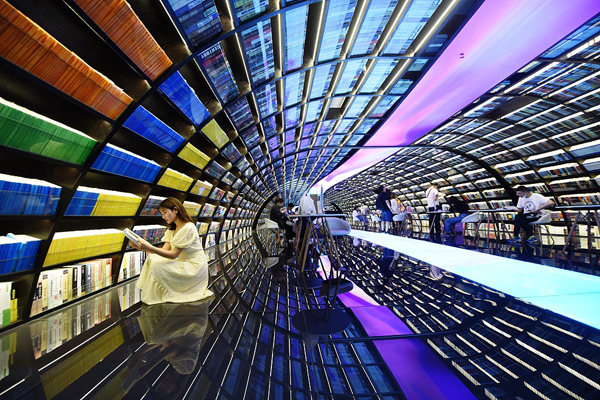 A resident from Hangzhou reads at a local bookstore on May 3, 2020 during the May Day holiday break. [Photo/CFP]
April 30, 2021

April 19, 2021
March 11, 2021