Hangzhou's GDP up 18.3% to $64b in Q1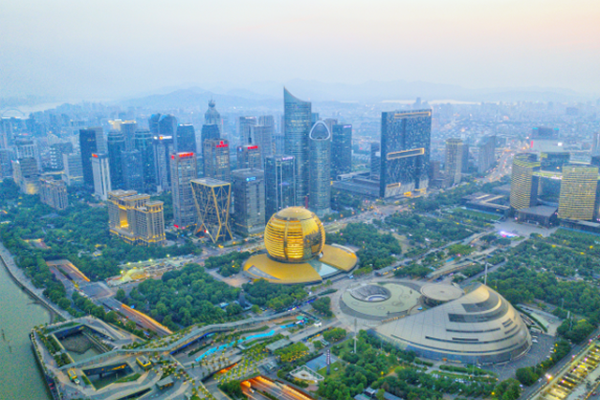 A bird's-eye view of Hangzhou, Zhejiang province. [Photo by Yao Yingkang/zjol.com.cn]
Hangzhou statistical authorities announced on April 26 that the city's GDP grew 18.3 percent year-on-year to 419.8 billion yuan ($64.73 billion) in the first quarter of this year, local media outlets reported.
Digital economy and manufacturing, the two pillar industries of Hangzhou, have led the city's development during this period.
Statistics show that the above-designated-size manufacturers in Hangzhou, meaning those with annual operating revenues of roughly $3.1 million or more, realized a 28.4 percent year-on-year growth in added value. The figures rose to 47.1, 48.2, and 71.9 percent respectively for the general machinery manufacturing, electrical machinery, and automobile industries. The above-designated-size enterprises also generated a 309.3 percent year-on-year increase in profit in January and February.
In terms of digital economy, the added value of its core industries has accounted for 26.7 percent of Hangzhou's GDP during the first quarter of the year, a year-on-year increase of 28.1 percent. The electronic information products manufacturing industry has registered the fastest year-on-year growth of 39.8 percent.
Hangzhou has also increased its investment in fixed assets, industrial projects, and infrastructure, up 34.7, 25.9, and 65.7 percent respectively.
The disposable income of Hangzhou residents in the first quarter of the year was 20,861 yuan, growing 16.4 percent year-on-year. The urban-rural income ratio was narrowed to 1.66 from 1.70 from a year earlier.