2022 Hangzhou Asian Games act on green energy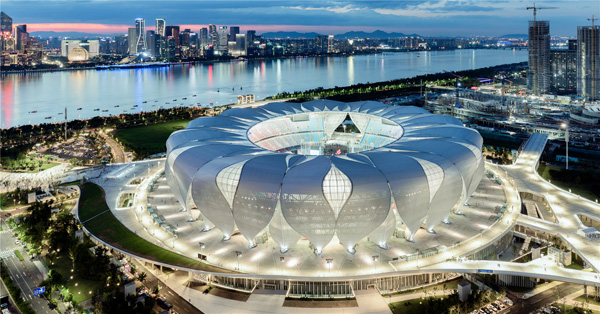 The 56 venues of the event as well as the sports village will benefit from the project. [Photo/hangzhou2022.cn]
The organizing committee for the 2022 Hangzhou Asian Games recently announced that it will carry out green energy trade with China's western regions to ensure a power supply for the event, local media outlets reported.
The 56 venues of the event and the sports village will benefit from the project. Preliminary competitions to be held this year are also expected to benefit from the plan. They will get their power supply from areas such as Southwest China's Sichuan province and Northwest China's Ningxia Hui autonomous region.
The supply of green energy in Zhejiang comes mainly from photovoltaic power stations within the province and some renewable energy power stations outside the province.
The total consumption of green energy for the venues and the sports village will be about 595 million kilowatt hours, which is equal to reducing standard coal burning by about 73,100 metric tons and carbon dioxide by 507,500 tons, almost the amount of carbon dioxide absorbed by 280,000 trees in a year.
Some large-scale mobile chargers, which can fully charge 300 electric cars, will also be on standby during the event for emergencies and to ensure power efficiency.
"The application of clean energy for the Asian Games is a reflection of Zhejiang's transformation towards a green and low-carbon society. It will help achieve the goal of having carbon dioxide emissions peak by 2030 and achieving carbon neutrality by 2060," said Yan Xiaoying, an official of the Games' organizing committee.