Foreigner experiences smart technologies in Hangzhou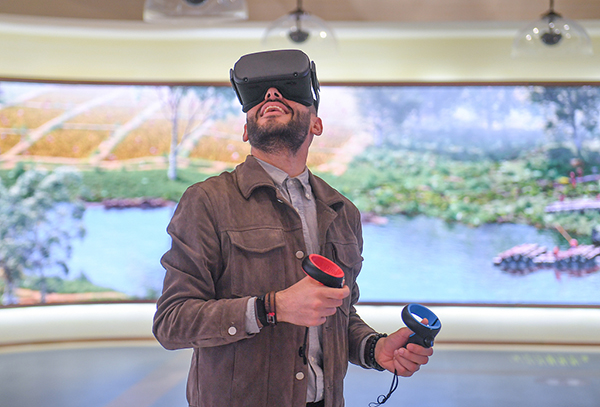 Fodil Selmouni wears a pair of VR goggles and tries to fish in the ancient way. [Photo by Wang Gang/CFP]
Fodil Selmouni, a Canadian who came to Hangzhou in 2016 and now teaches English at the Tourism College of Zhejiang, took a trip to the Park of the Archaeological Ruins of Liangzhu City on May 5 as he was attracted by the application of 5G and virtual reality technologies in the park.
"I've long been yearning to learn about Liangzhu Culture but was afraid my poor Chinese would weaken my understanding," Selmouni said.
His worries were soon relieved when he put on a pair of VR goggles and immersed himself in the 12 production and life scenarios of Liangzhu ancestors, such as fishing, farming, lumbering, and hunting.
"I used to have no idea of what Liangzhu ancestors ate every day, but now I have a clearer idea about it," Selmouni said. "They lived in a way that was totally different from what I've imagined."
"The 30-minute immersive experience is much more educational than reading books and it's also very friendly for foreigners who want to enhance their understanding of Chinese culture," Selmouni added.
Aside from the enjoyable trip to Liangzhu Park, Selmouni also shared his experience in a local hotel, where he was served by a smart receptionist system through which he can book a new room and finish check-in or check-out in 30 seconds. A delivery robot can also help him fetch take-out food or express parcels from the lobby to his room.
"In the past five years, Hangzhou has taken on a brand-new look, not only for in its urban image but also in people's way of living and traveling," Selmouni said.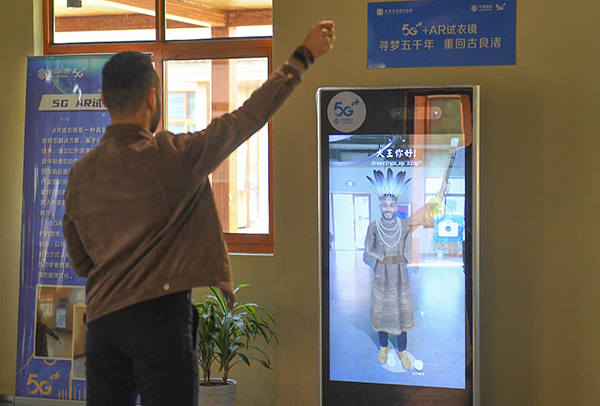 Fodil Selmouni puts on ancient clothes with the help of a smart mirror. [Photo by Wang Gang/CFP]