Hangzhou generates 2b yuan in sales revenue during May Day holiday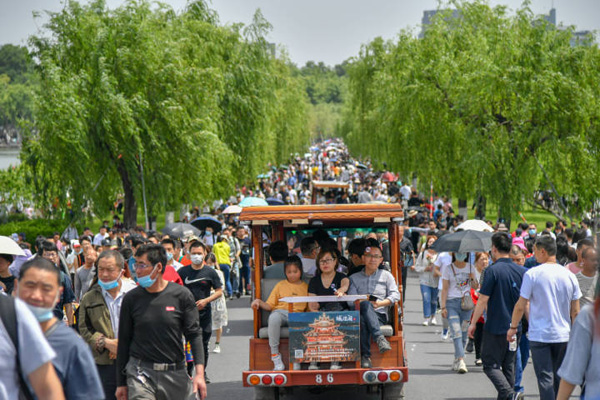 West Lake is crowded with tourists on May 1, the first day of the May Day holiday. [Photo/zjol.com.cn]
Hangzhou's retail, catering, culture, and tourism industries rebounded in terms of the number of travelers and total sales revenue during the five-day May Day holiday from May 1 to 5, local media reported.
Statistics show that the city's business entities generated a total of 2 billion yuan ($309.75 million) in sales revenue, which was up 22.7 percent and 17.4 percent respectively from that of 2020 and 2019.
The encouraging figure was partly due to Hangzhou's serial promotional activities, such as the 2021 Hangzhou Smart Shopping Carnival, which kicked off on April 29, and the nation-wide Consumption Promotion Month, which will run through May.
Wulin Plaza, Hubin Pedestrian Street, Wushan Night Market, and Golden Cross Street were the top four shopping and recreational destinations, which in total generated sales revenue of 317 million yuan during the holiday.
Local culture and tourism authorities also announced that 9.21 million people visited local tourist destinations from May 1 to 5, with West Lake, the Grand Canal, and the Park of the Archaeological Ruins of Liangzhu Culture being the most popular sites. Collective, they generated 5.79 billion yuan in total consumption revenue.
The outskirts of Hangzhou, two picturesque counties of Tonglu and Chun'an, received 885,300 and 722,100 tourists during the holiday.
The Hangzhou government had expected and made full preparations for a rebound in the number of travelers during the holiday, as many people were unable to travel or visit their hometowns during the Lunar New Year holiday in February due to authorities asking people to refrain from traveling at that time.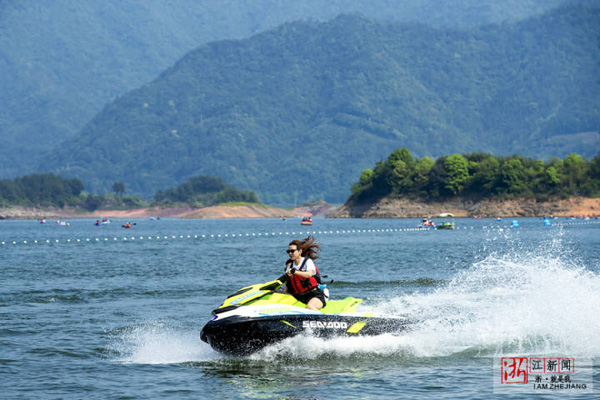 A tourist rides a speed boat on Qiandao Lake, Chun'an county on May 2. [Photo/zjol.com.cn]
April 30, 2021

April 19, 2021
March 11, 2021